A celebration of René Girard's 100th birthday:
The future of Mimetic theory
Conference of the Colloquium on Violence and Religion
In partnership with Association Recherches Mimétiques
hosted by
The Catholic Institute of Paris, June 14-17, 2023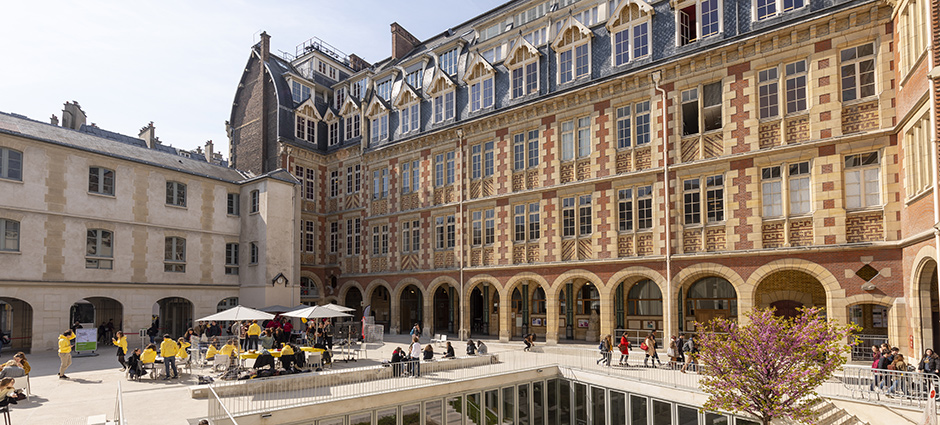 The COV&R 2023 conference is an invitation to return to the work and the life of the author of Violence and the Sacred by placing both in the climate of urgency which was Girard's when he left Europe in 1947 and which is still ours, at a time when war is knocking on our doors. Inspired by this moment to reflect on the past, present, and future of mimetic theory, practitioners of mimetic theory in any setting and scholars in every field—literary theory, anthropology, sociology, psychology, theology, moral and political philosophy, economics, biblical hermeneutics, film studies etc.—are encouraged to come to Paris in June for conversation and reflection.
Keynote Speaker
Thomas Pavel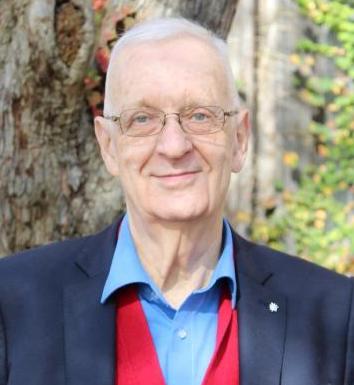 Thomas Pavel taught French and Comparative literature at the Université du Québec à Montréal, at Princeton University, and at the University of Chicago. In 2005-2006, he was a visiting professor at the Collège de France, where he gave a course on "How to listen to literature". He is the author of several books, including Fictional Worlds (1986), L'Art de l'éloignement: Essai sur l'imagination classique ("Art as distance. The neo-classical imagination", 1996); The Spell of Language: Post-structuralism and Speculation (1988, revised edition, 2001), and The Lives of the Novel (2013).
Keynote Address
Temptations and Warnings
René Girard on Literary Fiction
In his first book, Deceit, Desire and the Novel, René Girard launches a new way of reading literature, based on a strong, surprising, moral reflection. To understand human feelings and action, he argues, literature focuses on the close links between noteworthy individuals and their models and rivals. Some characters, few in numbers, find the sources of their passions and convictions within themselves. Most often, however, especially since the nineteenth century, the protagonists of novels, lacking this power, imitate instead the desires exhibited by fashionable models, which leads them wildly to compete with worthless rivals. These novels, Girard shows, denounce the temptations of dogmatic individualism and warn their readers about some of the most serious dangers of modern societies.
Plenary Lectures and Panels
James Alison, Theologian (Imitatio) – A Girardian approach to the virtue of humility
Mark R. Anspach, Anthropologist (Marcel Mauss Institute / Imitatio) – The Oedipus Case.
Round-table discussion: Sophocles' Oedipus Retried
Marinela Blaj, Anthropologist (University of Alexandru Ioan Cuza) – Punic Carthage. The theories of René Girard and the braudelian "longue durée"
Elisabetta Brighi, Lecturer in International Relations (University of Westminster) – Towards a Mimetic Theory of Terrorism
Barbara Carnevali, Philosopher (School of Advanced Studies in Social Sciences – EHESS) – Deviated transcendence. Girard's legacy for social philosophy.
Benoît Chantre, Editor, essayist and president of ARM (ARM / Imitatio) – Round table discussion: René Girard, an intellectual biography 
Life and times of René Girard
Vincent Delecroix, Philosopher and novelist (Practical School of Advanced Studies) – Cain and Abel
Chantal Delsol, Philosopher, member of the Institut de France (Academy of Moral and Political Sciences) – Violence et Apocalypse à l'époque post-moderne
Paul Dumouchel, Philosopher (Ritsumeikan University / Université du Québec ) and vice-president of ARM – Round table discussion : René Girard, an intellectual biography
Things Hidden
Jean-Pierre Dupuy, Philosopher (Stanford University) – Battling to the atomic end
Sandor Goodhart, Professor of English and Jewish Studies (Purdue University) – Round-table discussion: Sophocles' Oedipus Retried
Simon De Keukelaere, Theologian and linguist (Catholic archdiocese of Vienna) – Mimetic desire, literature and the desire for God
Trevor Cribben Merrill, Professor of French Literature and Novelist (Imitatio) – Girard, Platon and the poets
Christine Orsini, Philosopher vice-president of the ARM – Round table discussion: René Girard, an intellectual biography
The question of truth
Jean-Michel Oughourlian, Psychiatrist and essayist – Towards a new mimetic psychiatry
Wolfgang Palaver, Philosopher and theologian (University of Innsbruck and COV&R) – An Innsbruck Outlook on the Future of Mimetic Theory
Martha Reineke, Philosopher and President of COV&R (University of Northern Iowa) – Introduction to Mimetic Theory
Round-table discussion: Sophocles' Oedipus Retried
The House of Labdacus: On Kinship and Sacrifice
Camille Riquier, Philosopher, Dean of the Faculty of Philosophy of the ICP – Round table discussion: René Girard, an intellectual biography
Laughing and crying to understand. Girard and Bergson
Lucien Scubla, Philosopher and anthropologist – Round-table discussion: Sophocles' Oedipus Retried
Jérome Thélot, Professor of Literature, essayist and translator (University of Lyon) – A reading of Oedipus Rex
Round-table discussion: Sophocles' Oedipus Retried
Andreas Wilmes, Philosopher and Director of the Philosophical Journal of Conflict and Violence (PJCV), Pázmány Péter Catholic University – Budapest) – Apocalypse, Technology, and the Future of Mimetic Theory
Frédéric Worms, Philosopher and director of the Ecole Normale Supérieure in Rue d'Ulm – The unique problem of radical violence: Michel Serres and René Girard
Book Sessions
A COV&R annual meeting tradition, book sessions highlight significant recent publications in mimetic theory, feature panelists' critical commentaries on the book, and offer attendees an opportunity to engage authors and/or editors in conversation.  Get ready for Paris by following these links:
Members can purchase Violence and the Oedipal Unconscious: vol. 1 The Catharsis Hypothesis and Toward an Islamic Theology of Nonviolence from MSU Press at discount.
Transforming the Sacred into Saintliness: Reflecting on Violence and Religion with René Girard published by Cambridge
All Desire is a Desire for Being: Essential Writings published by Penguin Modern Classics
Learn about the authors of these books.
Call for Papers
The theme of the conference is the future of mimetic theory as a way of celebrating Girard's life and work: looking at what he brought into the world and how others today are being guided and inspired by his work and carrying it forward. It wants to be a way of looking both forward and backward, at how the future of the theory is rooted in its past, René Girard's seminal work, and taking a measure of the new dangers the world faces.
Therefore, we invite papers that can elucidate the contribution of René Girard to academia, especially those that show how Mimetic Theory will be important in the future. As the aim of the Colloquium is to explore, criticize, and develop the mimetic model of the relationship between violence and religion in the genesis and maintenance of culture and as the Colloquium is concerned with questions of both research and application, we welcome papers related to all aspects of mimetic theory.
Proposals should contain your name, affiliation, the title of the paper, and an abstract of the planned paper of about 200 words, and they should be emailed before April 15. Please also state the technology needs you would have.
Important Information on the Language of Concurrent Sessions:
Proposals should be submitted in English OR with an English-language translation accompanying a French-language text.
There are two options for presenters offering their papers in French:
a) The speaker will simultaneously project an English-language translation onto a screen from
a laptop. Font size should be readable from the audience. The speaker or their invited
surrogate will advance the text as they speak.
b) The speaker will state in their proposal that their paper will be given in French, absent
translation. These papers will be moved into French-language only sessions and will be so
identified in the schedule. Due to the anticipated small number of these proposals, these
sessions may not share common themes, etc.
Speakers who have written their papers in English are strongly encouraged to have their
English-language paper available to project onto a screen. Communication during the 2022
meeting in Bogota was very successful, in part, because the language skill possessed among the
greatest number of conference participants was English in its written form.
If you are a graduate student and your proposal has been accepted, there is the possibility of applying for the Raymund Schwager, SJ Memorial Essay Contest.
Raymund Schwager, S.J., Memorial Essay Contest
To honor the memory of Raymund Schwager, SJ (+ 2004), the Colloquium on Violence and Religion is offering an award of $ 1,500 shared by up to three persons for the three best papers given by graduate students at the COV&R meeting. Students presenting papers at the conference are invited to apply for the Raymund Schwager Memorial Award by sending an e-mail to that effect and the full text of their paper (in English, maximum length: 10 pages) in an attachment to Covr.2023@gmail.com. In addition to the prize money, the winners' registration fee will be waived. Due date for submission is May 1, 2023. Winners will be announced in the conference program. Prize-winning essays should reflect an engagement with mimetic theory; they will be presented in a plenary session and be considered for publication in Contagion. The winner(s) are selected by a three-person panel consisting of one of the conference organizers, the editor of Contagion, and the President of the Colloquium.
Furthermore, if your paper has been accepted and you fulfill the following criteria, you may apply for a
COV&R Travel Grant
COV&R offers travel grants under the following conditions:
Possible recipients are graduate students or practitioners of mimetic theory (e.g., NGO/non-profit staff; journalists, government employees). Preference is given to graduate students but practitioners of mimetic theory are also encouraged to apply.
Possible recipients have an accepted proposal and offer a presentation at the conference.
Attendees are eligible one time only for a travel grant. Priority will be given to applicants who have not received a grant previously.
Travel grants are for travel expenses only (the mode of transportation). A recipient can receive a maximum of up to $ 1,000 U.S.; if actual travel costs are less, they will be given the exact amount and the remainder will be kept for further applicants.
Grants are given on a first come, first served basis, as long as the available amount lasts.
To apply for a travel grant, write to the Executive Secretary of the Colloquium and explain your need and eligibility for the grant (include the confirmation of the acceptance of your paper). He will be in touch with the conference organizers, the treasurer, and with you, so that grants will be awarded according to the Colloquium's specifications.
Grants will be awarded at the conference.
The registration fee will be waived for travel grant recipients.
Please take note: The Raymund Schwager Memorial Award and the Travel Grants are not linked with each other. It is possible to receive both, it is also possible to receive only one of them. The application process is different, as as stated above.
Conference Venue
The 2023 COV&R conference will be held in Paris from June 14 to 17 at the Catholic Institute of Paris (Institut Catholique de Paris—ICP) where we will be graciously hosted by Camille Riquier, Dean of the Faculty of Philosophy at the Institute. Founded in 1875, the Catholic Institute of Paris is the inheritor of the medieval liberal arts colleges and lies in the tradition of the Sorbonne, the oldest academic institution in France. René Girard received an honorary doctorate from the Institute. We are very grateful to have received this invitation from Dean Riquier after the war in Ukraine necessitated that we no longer meet as originally planned in Romania.
The l'Association Recherches Mimétiques, under the able leadership of Benoît Chantre, is partnering with COV&R on details of the conference. The planning team includes Benoit Chantre, Paul Dumouchel, Nikolaus Wandinger, Wolfgang Palaver, and Mari Blaj.
For more information and registration, visit the registration site.
Food
We offer lunch on site in the garden of the ICP on two days, because in that period of the year service is slow in Parisian restaurants. Lunch is available at the ICP for 18 €/day , on Thursday 15 and Friday 16, but also at cafés in the vicinity. You are encouraged to organize your own lunch on Wednesday and Saturday.
Dinner is to be organized individually. Restaurants are easily available in the vicinity.
Accommodation
Housing has been arranged at Catholic guest houses, which are less expensive than usual Paris hotels. Reservations and payments for these economical accommodations will need to be made between January and May, depending on the accommodation chosen.
Please take note that the opportunities to book these rooms expire at different times: the earliest to expire is Saint Jean Eudes on March 14, the latest ones on May 15, so make sure to book soon.

There are also hotels nearby (see the following list). These can be booked through normal online booking services. No special conference rates are available there. Here too, it should be noted that Paris is a very sought-after tourist destination, so early booking will ensure that you get a room at the hotel of your choice. Estimated price ranges are: € less than 100 Euros per night, €€ 100-150 Euros, and €€€ higher than that.
However, hotels in the center of Paris tend to be rather small, so these hotels will probably rapidly be full. If that is the case, pretty much all the hotels in the 5th, 6th or 7th arrondissement are fine, not too far away from the venue and all these areas are safe to walk at night.
Hotels and addresses:
| Name | Address | Estimated price range |
| --- | --- | --- |
| Villa des Princes | 19, Rue Monsieur le Prince | €€ |
| Hotel Stanislas | 5 Rue du Montparnasse 75006 | €€ |
| Le 66 | Rue Lhotmont 75005 | €€€ |
| Acacia Hotel | 30b Av Parmentier 75011 | € |
| Celtic | Rue d'Odessa | € |
| Pacific Hotel | 11 Rue Fonday 75015 | €€ |
| Studia | 51 Bd St Germain 75006 | €€ |
| Pierre Nicole | 39 Rue Pierre Nicole 75005 | €€ |
| Studio Odéon | 3 Rue de l'Echaudé 75006 | €€ |
| Sunny Hotel | Bd Port Royal | €€€ |
Registration
Registration for the conference and for all items except accommodations will be done through clicking on the button "Get tickets" on the registration page.
The registration fees before April 15 are:
COV&R Member and ARM Honorary Member 155 €.
COV&R Student Member 75 €
Non-member 190 €
Non-member Student 90 €
After April 15
COV&R Member and ARM Honorary Member 190 €
COV&R Student Member 90 €
Non-member 225 €
Non-member Student 105 €
Beginning and Welcome
The conference starts at 3 o'clock with an introduction to Mimetic Theory given by COV&R President Martha Reineke and another plenary at 5 o'clock. We will meet socially for welcome cocktails at 7:30 p.m. at Forum 104 a few steps from the Catholic Institute of Paris. In the heart of Paris, Forum 104 is a place of meetings and dialogue for anyone who wishes to discover, explore, deepen the spiritual dimension of their existence and see how to live it, in their daily life. It is in this place that René Girard had his student room.
There is no charge for the welcome cocktail party, but reservations are required.
Cultural Events
The conference will be accompanied by a cultural program: This includes a concert by the Girard Quartet, which consists of grandnephews and grandnieces of René Girard. The concert will take place on June 15, at 8:30 p.m., in the chapel of the Catholic Institute of Paris, Saint-Joseph-des-Carmes church, in the garden of the Carmelites. The entrance fee of 20 € is to be paid on location.
The final dinner at the Café Procope in the Rue de l'Ancienne Comédie, a special place with historic significance, will take place on June 16 at 9 p.m. The dinner will be 80€ per person to be paid on location. However, a pre-reservation is necessary in order to attend.
If you have any further questions, please send them to the conference e-mail address.