Contents
Letter from the President, Jeremiah Alberg
Editor's Column, Curtis Gruenler
COV&R Annual Meeting 2019 at Innsbruck
COV&R Sessions at the American Academy of Religion, Grant Kaplan
Evolution of Desire: A Life Ascending, Kevin L. Hughes
History and Story: Reflections on Evolution of Desire, Martha Reineke,
Wolfgang Palaver 60th Birthday Celebration, Wilhelm Guggenberger
Letter from… Bogota, Roberto Solarte
Wolfgang Palaver and Richard Schenk, eds., Mimetic Theory and World Religions, reviewed by Robin Lathangue
Paul Dumouchel, The Barren Sacrifice: An Essay on Political Violence, reviewed by Joel Hodge
Emily Swan and Ken Wilson, Solus Jesus: A Theology of Resistance, reviewed by Curtis Gruenler
Three Billboards outside Ebbing, Missouri & Hostiles, Luke Nelson
---
Letter from the President
Jeremiah Alberg
International Christian University

Here in Tokyo, autumn has come in earnest. The air is chill, the leaves are turning, the sky is a lovely blue. My house grows cold in the night and a kerosene stove gradually spreads a welcome warmth in the early hours. In Japan, as in some other countries, late November is a time of thanksgiving. I have a number of things to be grateful for, but right now I am particularly grateful for being able to teach a course here called "Introduction to Christianity." It is the course that everyone who graduates from this school is required to take. Some students take it right away in their first semester, some put off until right before graduation. The background the students bring to it is incredibly varied: from fundamentalist Christians to students who have literally never read a word of the Bible. The main part of the course is reading Girard's The Scapegoat.
Students have a variety of assignments but also have what I call, "The Artistic Option." I started this two years ago when the Raven Foundation sponsored a contest for undergraduate students to submit some artistic project that gave expression to mimetic theory. Generally, out of about 100 students, 10 will chose this path. Our terms are short here and so they often begin to panic around the fifth week as we are only half way through the text and they still do not feel like they have any grasp on the overall theory. But somehow they manage to pull it all together and they have produced some wonderful pieces.
Beyond the art itself, the other students' reaction to the art is also of interest. They are often amazed at the art produced and feel like they have gotten a new understanding of the whole class through their peers' projects. I would like to share two of these projects with you. One is a photo essay titled "Traversing into the Mechanism" by Mr. Joshu Majima. It includes his artistic statement.
Second is a ballet created by one of the students, Ms. Manaka Tomoda. Her explanation is the following:
The Statement of the Artistic Project "Good Bye Mimesis"
This project is a short ballet piece choreographed and performed by Manaka Tomoda using a music piece "Fantasia on Greensleeves" composed by Ralph Vaughan Williams. It reflects what I have learnt from Introduction to Christianity about "mimetic desire." We suffer and have conflicts because of mimesis. It seems to be impossible to stop imitating what others want. However, understanding the fact that many uncomfortableness come from mimetic desire can potentially make people feel better as it releases them from the unknown hostile emotion against others.
The dancer is suffering from the world full of ugliness. She does not know what she wants and how to want something by her own desire but just imitates others. She knows only her world, but she instinctively feels that there should be a way to live better with less jealous and conflicts. This is why a series movements is always repeated in the first part of this ballet as the representation of mimesis; the right side version is always followed by the left side one as the representation of mimesis.
Then she hears something. Carefully getting closer with a little hesitation, she gets a message. It says "You suffer because you imitate others. It is fine to want what others want. However, you have to know that you are controlled by the mimetic desire. When you understand the power of mimesis and are able to let all the troubles caused by mimesis go, you feel better and so does your life. Be brave enough to be different from others. And spread this message to people around you". She accepts the message and starts telling others. This happens in the middle part of this ballet piece. This part has no choreography as it is an impromptu. It simply reflects my impression to express this sensitive part, or receiving message, realising how powerful Mimesis is, and telling people the message.
Then she is free from mimesis, or at least free from unconsciously being controlled by Mimesis. She does not repeat the same movements anymore as she knows she does not have to. She smiles because she simply enjoys dancing. Comparing the last part to the first one, it is obvious that the message has really changed her. She says "Good bye mimesis", kissing to the direction of the message.
---
Editor's Column
Curtis Gruenler
Hope College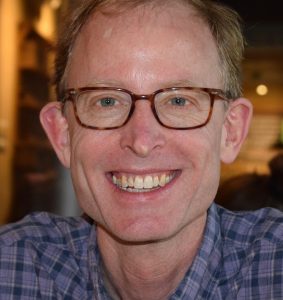 We delayed this issue of the Bulletin past its November publication target to report on COV&R's sessions at the meeting of the American Academy of Religion. In addition to an overall report, you'll find papers about Cynthia Haven's Evolution of Desire: A Life of René Girard given by Kevin Hughes and Martha Reineke as well as a response by Haven herself.
Let me also draw your attention to Robin Lathangue's long and insightful review of the volume Mimetic Theory and World Religions. Such an extensive review (like our three-part review of the Palgrave Handbook of Mimetic Theory and Religion earlier this year) seems justified for this landmark treatment of concerns that have been central to COV&R since its founding and have only become more important as mimetic theory reaches a broader audience.
This issue also features our first film review, which begins with some thoughts about what kind of a review might suit the Bulletin: the same size as a typical film review (rather than an academic article), but unafraid of spoilers and willing to discuss the full arc of a plot, especially the final act, where mimetic insights are more likely to be revealed. We would be glad to have others. If you are interested in writing one, please contact me.
Complete videos of the keynote lectures from last summer's annual meeting in Denver are now available on the COV&R website under the Annual Meeting tab and on COV&R's new YouTube channel. In addition, an interview of keynote speaker Jack Miles about his new book God in the Qur'an is available on the Raven Foundation site.
The Raven Foundation publishes articles written by students and professors in its Your Voice section. They would love to receive articles from COV&R members and their students. 
 "An invitation site for creative people who seek to interpret their world in fiction or drama that sees what René saw": that's how John Young, one of the authors behind the new website describes its vision. "It is not enough to get a new pair of glasses: one must then passionately attack what I call notseeing, the willful refusal to see injustice and scapegoating in real time, in one's own space."
Chair 37 of the French Academy, vacant since René Girard's passing three years ago, has now been filled by medievalist Michel Zink, whose customary tribute to his predecessor was, as Cynthia Haven wrote on her blog, "highly praised."
Finally, I had the opportunity to attend a wonderful lecture by Rowan Williams, former Archbishop of Canterbury, on prayer in Shakespeare at the University of Notre Dame on November 26. Though Williams did not mention Girard or mimetic anything, his lecture would make a fitting coda to Girard's A Theater of Envy. He began and ended with the epilogue to Shakespeare's last play, The Tempest, in which the magician Prospero, laying down his powers, puts himself at the mercy of his audience: "my ending is despair / Unless I be relieved by prayer." In some earlier Shakespeare plays, those who pray—Henry V, Claudius in Hamlet, and Antonio in Measure for Measure—find themselves frozen and isolated by inability to make adequate repentance and restitution. Prospero, turning to the audience for help and inviting their gesture of putting their hands together to mean more than applause, briefly transforms the theater into an instance of bearing one another's burdens and setting each other—characters, actors, playwright, audience members—free. While A Theater of Envy shows how Shakespeare's insight into mimetic dynamics makes him alert to how theater always teeters on the brink of a sacrificial catharsis, Williams pointed to how Shakespeare's farewell to the stage models a liberating interdividuality. An article version is forthcoming in the journal Religion & Literature.
---
Forthcoming Events
2019 Annual Meeting
Innsbruck, Austria, July 10-13, 2019
"Imagining the Other:
Theo-political Challenges in an Age of Migration"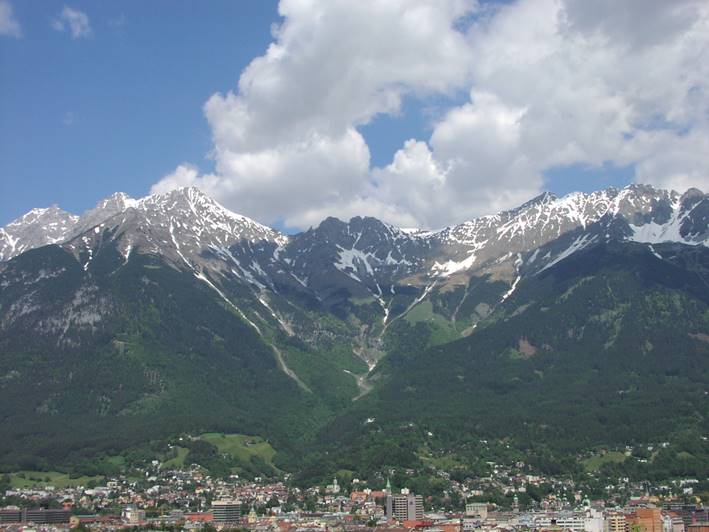 We live in an age of migration—often forced—with its special challenges. How we imagine "the other" is a decisive element in the (theo-)politics of exclusion and desire that feed on these challenges. Aware that imagination is a mimetic process, COV&R's  2019 annual meeting wants to address these challenges by trying to illumine different aspects of this complex entanglement, asking whom or what we mean by "the other": the stranger and migrant, the brother or sister, nature that envelopes or defies us, the transcendent Other to whom religions refer, the other sex or gender….
Scheduled subsections will include:
Migration, ecology, and economic justice
Exclusion and the transcendent Other
Imagining the other: media coverage of migrants and refugees
How do Europeans view the "others"?
The theme, "Imagining the Other," also widens the conference's range of topics beyond migration to other fields of interest for COV&R members.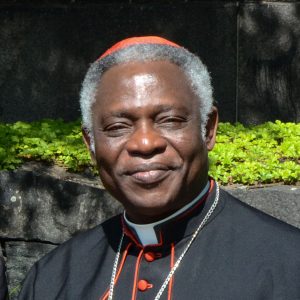 The keynote address will be delivered by Cardinal Peter Turkson, formerly President of the Pontifical Council for Justice and Peace, now Prefect of the Dicastery for  Promoting Integral Human Development.
COV&R 2019 will coincide with the 350th jubilee of the University of Innsbruck, western Austria's largest institution of research, with 28,000 students and 4,500 staff. Innsbruck is a city of 132,000 located at an elevation of 574 meters (1,722 feet) in the Inn River valley surrounded by mountains of the Tyrolian Alps extending up to 2,300 meters (7,000 feet) that can be reached by a cable car.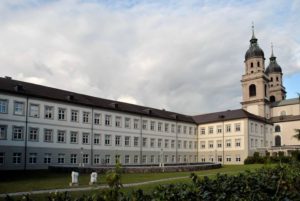 The conference host is the university's Jesuit-affiliated Faculty of Catholic Theology, which enrolls about 800 students, including about 40 Ph.D. students from around the world. It is famous as the academic home of theologians Josef Jungmann, Hugo and Karl Rahner, and Raymund Schwager. Schwager's legacy of collaboration with René Girard lives on in an active research program that has included many COV&R members, including conference organizer Nikolaus Wandiger.
The conference's cultural program on Saturday, July 13, will feature a 45-minute bus ride to the village of Stams, site of a Cistercian Abbey founded in 1273, where the tour will include a special exhibition about Emperor Maximilian I, who tried to negotiate peace with the Turks. The tour will be followed by a concert of the Regensburg Cathedral Choir and dinner in Stams.
Travel and accomodations: The closest international airport is in Munich, a 2-hour train ride away. Innsbruck's own airport has good connections to international hubs in Frankfurt and Vienna. Attendees will arrange their own accommodations at hotels near the conference site in the city center or at a limited number of rooms in ecclesiastical guest houses. Further information will be posted on the conference web site.
---
Conference Reports
COV&R at the American Academy of Religion
Grant Kaplan
St. Louis University
Registered as a Related Scholarly Organization, COV&R continued to host programming at the world's largest meeting of religion scholars: the American Academy of Religion and Society of Biblical Literature, which about 12,000 people attend. This year, COV&R hosted two sessions in Denver.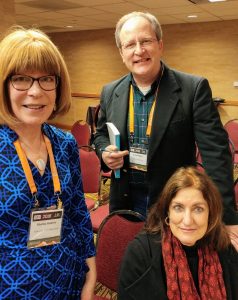 The first, a panel dedicated to Cynthia Haven's Evolution of Desire: A Life of René Girard, took place on Saturday November 17th. Three panelists—Kevin Hughes (Villanova University), Martha Reineke (University of Northern Iowa) and Trevor Merrill (California Institute of Technology and the Thiel Foundation) reflected on the book. COV&R was deeply honored that Cynthia Haven accepted our invitation to attend the session and generously offered a response. A lively question and answer followed, which included several helpful interventions and anecdotes from Sandor Goodhart. 
Evolution of Desire has been widely reviewed. The COV&R Facebook page contains links to many of these reviews. The AAR session presentations differed from these reviews in that each presentation melded elements of a book review with critical reflections by a representative scholar of mimetic theory. Each speaker sought a constructive engagement with Evolution of Desire and its author in ways that advanced critical reflection on mimetic theory. Since most COV&R members were not able to attend the AAR meeting, we are pleased to publish below a sampling of the session with two of the papers as well as Cynthia Haven's response.
COV&R's second session, on the topic of mimetic theory and Christian spirituality, took place the next morning, the 18th of November. It consisted of three papers: (1) James Alison (Madrid, Spain), "Interdividuals, Individuals and Fragmented Selves: How Can Mimetic Theory Help Us Understand 'Huiothesia'?" (2) Randy Rosenberg (Saint Louis University), "The Spiritual Texture of Trauma: Mimetic Desire, Psychic Conversion, and the Healing of the Damaged Self"; (3) Brian Robinette (Boston College), "Mimesis, Meditation, and the Art of Creative Renunciation." As with the Saturday session, all of the panelists brought their "A" game. Robust discussion followed. At a reception on Sunday night, an acquaintance said that people had been talking about the panel all day as "the best panel at the AAR." About fifty people attended, which put us at capacity. 

Grant Kaplan convened both sessions. About twelve people stayed for the business meeting and proposed various ideas. We will set the program for next year (San Diego, November 23–26) in the spring. If you have ideas, please send them to Grant.
---
Evolution of Desire: A Life Ascending
Kevin L. Hughes
Villanova University
Nel mezzo del cammin di nostra vita
mi ritrovai per una selva oscura
ché la diritta via era smarrita.
We will all recognize these immortal first words from the Divine Comedy. We may recall that Dante sets his great poem in the year 1300, when he himself was 35 years old, "in the middle of this our life." It was at this moment, he says, that he awoke. He had been sleepwalking through his life, he tells us, and then this moment brought him back. It set before him a long journey; he would write the Divine Comedy for the rest of his life, finishing the Paradiso just before his death. Prior to this moment, we may know, Dante seems to have abandoned writing. At the end of La vita nuova, in 1292, Dante pledges that he will no longer write about Beatrice until he is capable of something never seen before.  But in fact, Dante doesn't write anything—or not anything that we still have—until after this moment, nel mezzo di cammin di nostra vita, in 1300. But after this, he writes one of the greatest poems in Western literature.
René Girard, too, faced a moment, in the middle of this our life, at age 35, on the train between Baltimore and Philadelphia, during which he awakened to a whole new way of seeing. The conversion, first of intellect, then of will, in the winter of 1958-59, so carefully painted for us in Cynthia Haven's book, is the generative fact of the rest of his life's work. Girard tells Haven, "My intuition comes first, and it leads me toward vivid examples, or burns them into my memory when I happen upon them by chance. This has led to misunderstanding, even condemnation among 'specialists'" (119). From Girard's point of view, this moment, this insight, which came all at once, is gradually unfolded in a life's work that provides the occasion for our gathering here today. Without this moment, nel mezzo del cammin di nostra vita, Girard's career may have been entirely ordinary. 
Girard and Dante. Cynthia is intrigued in her book by the relationship. Girard, of course, was surrounded in his young ascendancy at Hopkins by the brightest lights in American Dante scholarship—Charles Singleton and John Freccero. These were his friends and his colleagues, and he was well-liked, even loved by them. Freccero confesses, "No man in my life has been more important. It's embarrassing to love René—what the hell, everybody loves René" (88). Freccero himself was godfather to René and Martha's sons. So Girard was intimate with the greatest American Dantists of the 20th century. Yet Dante is strikingly absent from Girard's written work. He did write one article on Dante—on Paolo and Francesca and mimetic desire—that was original but not transformative. Cynthia's discerning eye sees more: "While no one, to my knowledge, has commented on Dante's hold on Girard, I sense a thin thread of Florentine gold running through Girard's life and his work" (87). What exactly, is that thin, Florentine thread? And what may we make of it?
Cynthia relates to us that Girard himself said that he did not write about Dante because of the company he kept. "[He] reasoned that he would never excel them, and so bypassed a mimetic imbroglio" (100). But Cynthia finds kinship nonetheless, through Girard's oft-quoted maxim, "All desire is a desire for being." Cynthia takes this to be just a slight step from Dante's vision of sin as "a form of distorted love." "The thinking is the same," she says, "if the objective is arguably different" (100). I have been pondering that sameness and difference since I read Evolution of Desire, and I would like to take a few minutes now to think out loud with you all, and especially with you, Cynthia, about this sameness and difference.
When Girard says, in his interview with Michel Tregeur, that "All desire is a desire for being," it's like a zen koan. What, exactly, is his meaning here? On the face of it, and I think in Cynthia's reading, this is taken to refer to Girard's notion of "metaphysical desire." Metaphysical desire is that desire which, under mimetic contagion, loses sight of the mimetic object and even of the mimetic rivalry itself. Acquisitive mimetic desire becomes metaphysical desire when the desiring one desires to be the model/rival, not simply to be like the model/rival. As such, metaphysical desire cannot be fulfilled; it is impossible to be another. If this is what he intends, then indeed it is hard to avoid the Infernal implications—the description of metaphysical desire almost conjures of itself the image, say, of Paolo and Francesca, themselves become a new Lancelot and Guinevere, figures of breath, blown about, forever caught in the tragic embrace, forever themselves the mimetic models, from Boccaccio to Rodin and Ary Scheffer. And forever lost in the closed circle of desire.
But I return to Girard's statement. "All desire is the desire for being." In the context of the interview, Girard has just reminded Tregeur that he had initially contrasted mimetic desire with spontaneous desire, in Deceit, Desire, and the Novel. "But I've gotten in the habit of using the word 'desire' to refer to the various appetites, needs, and appropriations that are shot through with and governed by imitation." Girard assures Tregeur that his focus upon mimetic desire was never intended to give comprehensive explanation to human subjectivity and relation. "For example, I believe in the love parents have for their children, and I don't see how you could interpret that love in a mimetic fashion" (René Girard, When These Things Begin: Conversations with Michel Tregeur [East Lansing: Michigan State University Press, 2012], 12). Girard allows as well that sexual intimacy, when truly mutual and self-giving, could escape the trap of mimesis, if rarely. Michel Tregeur then, curiously, replies, "All desire is religious? Even my desire for my pretty next door neighbor?" To which Girard delivers his koan: All desire is the desire for being. 
Now, does Girard here refer to his expanded reference to desire, so as to include parents and children and perhaps occasionally lovers? Or does he revert back to his "habit," and intend nothing more than "metaphysical desire" as we have described it? My suspicion is that it is the latter, but my hope is that it is the former. If it is the former, then Girard's work, at least in his later years, truly is embroidered with that golden Florentine thread. For the key to understanding Dante is to see that beneath this claim, all desire is the desire for being, is the profound, gracious movement of the "love that moves the sun and other stars." All of created being is constituted as what it is precisely in its movement out of and return to that Love. Within in this larger movement of the cosmos, our own desires are, rightly understood, the desire for being, the desire for the actualization of our own being and the sharing in the being of another. 
In the Purgatorio, when Dante and Virgil are leaving the terrace of Envy (or, as I like to say, the terrace of the Merciful, since I think the terraces are as defined by the virtue and the beatitude as they are by the vice), Dante asks Virgil about something that one of the souls on the terrace had said: they suffer, he said, because they desire things that cannot be shared (XV.45). Dante cannot imagine any other sort of thing: Isn't everything a good that cannot be shared? To this Virgil replies: "Because your appetites are fixed on things that, divided, lessen each one's share, envy's bellows pushes breath into your sighs. But if love for the highest sphere could turn your longings toward heavenly things, then fear of sharing would pass from your hearts. For there above, when more souls speak of 'ours', the more of goodness each one owns, the more of love is burning in that cloister" (XV.49-57; all English translations taken from Robert and Jean Hollander, translators, The Divine Comedy [New York: Anchor Doubleday, 2000, 2003, 2007] unless noted otherwise). Dante is still perplexed: "How can it be that a good, distributed, can enrich a greater number of possessors than if it were possessed by few?" (XV.61-3). At last, Virgil comes clean: "That infinite and ineffable Good, which dwells on high, speeds toward love as a ray of sunlight to a shining body. It returns the love it finds in equal measure, so that, if more ardor is extended, eternal goodness will augment its own. And the more souls there are who love on high, the more there is to love, the more of loving, for like a mirror each returns it to the other" (XV.67-75). Virgil here is describing mimesis without rivalry, a desire for being that is not the desire to claim the being of another, but to amplify the chorus of Being and Desire by adding to it one's own voice. And it is important to note that this whole conversation began with a comment from a penitent soul on the terrace of Envy. It suggests that part of the "unlearning" of envious desire entails understanding it as a distortion of rightly-ordered desire. One can begin to unlearn the habits of mimetic desire, in the usual Girardian sense, but only by seeing it in the light of the true mimesis, the mirroring of love that leads to excess, not loss.
In his later work, as I suggested above, Girard is more and more willing to concede that his insight into mimetic desire is not a total explanation of human desire and love. "Mimetic phenomena interest me," he says, "not only because they are present in a bunch of phenomena that seem unrelated to them, but also because using them makes it possible to think about genesis, structuration, and destructuration in a very effective way…. But I am not saying they exclude all other types of explanation" (When These Things, 12). And the tremendous body of work we have from him bears witness to the power of this mode of explanation. 
But if this is so, then the "thread of Florentine gold" that Cynthia sees winding through Girard's life and work could only be our guide down into the bowels of the Inferno. The work itself does not offer a vision of the healing of desire. Girard wrote no Purgatorio or Paradiso, nor, as far as I know, did he comment on Dante's. The best hint we have of that healing comes from the backward look to the Cross of Christ, where we see revealed the innocence of the victim and the gift of the one non-rivalrous desire to "forgive them, for they know not what they do."  But what does it mean for us to sit under that Cross, to learn from it and be transformed by it? In my reading, we get from Girard only hints and glimpses. 
Or, perhaps, I should say that, in Girard's work, we get only hints and glimpses. Like Father Zossima in the Brothers Karamazov, he can give indirect testimony at best. For it seems to me that the portrait of the life that we receive from Cynthia is, in a sense, as great or greater than the work itself, if we have eyes to see. It seems to me that we see a Girard who, gradually, is learning the ascetic discipline of desire—the humility of receiving more than one can ever return, the quiet reconciliation with past wounds. In my view, we discover in Cynthia's beautiful portrait a Girard who is already receding, inviting us forward, refusing to be the center of a "mimetic imbrogilio." We see, that is, a purgatorial life, in its Dantean sense… a life ascending. I may wish that we had seen Girard take up the pen to write about Dante beyond the Inferno. But perhaps it is not in his books but in his life that I have to look. Perhaps this, in Cynthia's term, is the proper "evolution of desire."
History and Story: Reflections on Evolution of Desire
Martha Reineke
University of Northern Iowa
Cynthia Haven's biography of Girard is a substantive contribution to the literature with broad potential to inform the work of the next generation of Girard scholars. Wonderfully, Evolution of Desire has been widely reviewed, introducing Girard to persons previously unfamiliar with his work and sustaining public attention that began at the time of his death. More important, the book enables readers to see in the corpus of Girard's work prescient commentary on current issues. As a consequence, Evolution of Desire does not invite engagement; it demands it. And for this, all of us can be grateful to Haven. 
In Haven's interview with Bret McCabe about the biography, she accounts not only for Girard's significance as a scholar but also for why Evolution of Desire is an important contribution to Girardian literature. Haven says of Girard's writing:
It invites you to change your life. Not in the sense of becoming a camp follower or a professional "Girardian," but rather encouraging awareness of how we scapegoat others, how easily we join crowds, and how we hunger for the wrong things for the wrong reasons. These are at once the lineaments of human history and the contours of our personal stories as well [emphasis added].
Haven discusses with McCabe Girard's conversion, after which Girard became a practicing Christian. Her description is apt not only as an account of that transformation but also as a description of her own project. Haven writes: "It's often said that we take things too personally. But perhaps a greater error is not taking things personally enough. Suddenly, it was personal for him. Suddenly, his own life went under the microscope. How does that change your writing? It changes nothing. And everything." Haven points out that, after Girard's conversion, authors and their experiences opened him to a kind of "deep understanding." So too, does Haven's biography. In placing Girard's life under a microscope, Haven changes nothing—and everything. Embracing the scandal of biography, taking things too personally, Haven makes Girard's "deep understanding" accessible to her readers to notable effect.
To lay groundwork for our discussion, I focus on two defining features of 2018: the rise of white supremacy and the #metoo movement. These moments invite our attention to ways in which the lineaments of human history and the contours of our personal stories align. Reading Evolution of Desire, we can leverage insight for responsible action. Yet Girard's work is instructive but incomplete. Only as we come to terms also with scandal can we sustain the melding of history and personal story in our own lives, a connection that Girard always invited with the example of his life and work. 
Lynching and White Supremacy 
The New York Times has just published an investigative report by Janet Reitman examining how domestic counterterrorism efforts have, for two decades, ignored far-right extremism. Even though far right extremists have killed far more people since September 11, 2001 than have other groups, U.S. counter-terrorism efforts and funds have not been directed toward investigating white supremacists. Nevertheless, the massacre at Tree of Life Synagogue, the killing of Maurice Stallard and Vickie Jones at a Kroger store in Kentucky by a man who moments before had tried unsuccessfully to enter a black church to kill there, and the increasing levels of violent rhetoric that led up to the midterm elections suggest a metastasis of white hatred that needs the attention of law enforcement as well as our own. 
White violence, which Girard discusses in four major works (Violence and the Sacred, Things Hidden since the Foundation of the World, The Scapegoat, I See Satan Fall like Lightning), is Haven's focus in Chapter Five. My assessment of reasons for Girard's recurrent attention to lynching concurs with Haven's when she reports on a conversation Girard had with Maria-Stella Barberi. Asked whether his theory of lynching came from his experience living for a year in the Jim Crow South, Girard demurs and cites Faulkner's Light in August as his influence (70). Haven reports too that, in a 2007 interview with Robert Doran, Girard also cites Faulkner as the source of truth about lynchings: "You have to go to Faulkner to find the truth about this—to a novelist" (76).
I find compelling Girard's statements about Faulkner's influence on his reflections on lynching. Prior to moving to North Carolina, Girard had discussed in the text of Deceit, Desire, and the Novel the dynamics of masochism and sadism. Demonstrating the direct influence of Sartre, Girard draws from a thirty-page section of Sartre's Being and Nothingness. In that section, Sartre cites the lynching scene in Faulkner's Light in August, writing that "nobody has better portrayed the power of the victim's look at his torturers than Faulkner has done in the final pages of Light in August" (Being and Nothingness [New York: Washington Square Press, 1992], 526). Could Sartre's comment actually have been the impetus that drew Girard's attention to Light in August?
Haven also considers at length whether Girard observed a lynching, which purportedly would explain his repeated attention to the topic. I find concerning that readers may turn Haven's book into a page turner, treating it more as a crime novel than as a scholarly biography, in their desire to know whether Girard witnessed a lynching. Fortunately, readers' voyeuristic engagement with the text is tempered by two challenges. Haven offers the first, observing that the neglect of lynching by the general public, who treat it as a curious artifact of past history, belies both the continued power of a mob and that mob's incapacity to accept responsibility for its own violence. Haven ponders whether the capacity of a mob to hide scapegoating from itself—as illustrated by two French scholars who justified to her a mob assault on tondues in liberated France—will change in the wake of modern technology. She muses whether the absence of media in times past to record scapegoating contributed to a denial of responsibility by the crowd. She suggests that "symbolic lynchings" that flood media today make sacrifice ever easier on the conscience (73). 
But let's reflect on the second challenge to voyeuristic readers in Haven's discussion of lynching. She reports having asked Sandor Goodhart whether Girard could have witnessed a lynching. Sandy replied: "If you're at a lynching, you are one of the lynchers" (69). Goodhart's observation that there are no bystanders at a lynching sheds light on Girard's encounter with Faulkner. I suggest that, when Girard read Faulkner's description of the lynching of the Negro Christmas, he experienced a forced choice—to side with the victim or with the persecutors. Thereafter, supported by a conversion that took place as Girard completed the manuscript of Deceit, Desire, and the Novel, Girard stands with the victim.
In this way, Goodhart's words highlight a prophetic call by Girard which Haven has described as inviting his readers "to change your life by encouraging awareness of how we scapegoat others, how easily we join crowds, and how we hunger for the wrong things for the wrong reasons." She has said that these moments "are at once the lineaments of human history and the contours of our personal stories as well." I ponder Haven's words as I reflect on diversity and COV&R. If our response to Girard's writings on lynching is not a voyeuristic gesture but an encounter with the personal—precluding us from assuming the role of bystander—what do Girard's comments on lynching change? Nothing? Everything? In Julia Robinson Moore's paper at the COV&R conference at Regis University, she suggested that the surrogate mechanism within mimetic theory has yet to be fully explored and studied through the experiences of subjugated and oppressed peoples of color, nationally and internationally ("René Girard, Christianity, and American Lynchings," presentation at the Annual Meeting of the Colloquium on Violence and Religion, July 12, 2018). Taking up Moore's call would, she suggests, push the Girardian academy to examine its own mimetic desires as "whiteness" and "white privilege" become a lens by which to deconstruct systematic and institutional forms of racism within it.
Disembodied Desire in Girard
A second way to think about lineaments of human history in the context of personal story is to reflect on a puzzling gap in Girard's work on which I had hoped the biography would shed light. Girard has not reflected closely on the embodied nature of violence. But embodiment is not a side issue to the study of violence. Essential to lynching was an obsession with the sexuality of black men as white men sought to control white women's bodies. White supremacy feeds on toxic masculinity which, in its most distorted form, has created the incel movement—involuntary celibate men who act out misogyny, as Scott Beierle did when he opened fire in a yoga studio and killed two women a month ago. And bodily trauma in the wake of sexual assault can have life-changing consequences, as we saw during the Kavanaugh confirmation process when, in the most poignant moment of this year's #metoo movement, Professor Ford's testimony elicited from thousands of women long-buried recollections of sexual assault they experienced as girls decades earlier.
It is perplexing that Girard largely bypassed embodiment in the development of mimetic theory and had no words, in the brief attention he gave to the dynamics of positive mimesis, which he calls intimate mediation, for its embodied expression in erotic desire and love. After all, Girard was influenced by the existentialists, who offer robust theories of embodiment, love, and sexual desire. Indeed, Girard acknowledged in conversation with Haven that he had become newly aware of just how influential Sartre had been for his own work (35). But as Girard moved away from the existentialists to develop his distinctive mimetic theory, he ceased to give embodied desire the attention existentialists gave it.
At least in Deceit, Desire, and the Novel, Girard is influenced by Sartre's account of sexual desire in Being and Nothingness. Similarities and differences in their perspectives come to the fore in an analysis of their comments on coitus. Sartre writes that, at the moment when a lover grasps his beloved in the consummation of their erotic encounter, he finds himself alone: "Everything happens as if I wished to get hold of a man who runs away and leaves only his coat in my hands. It is the coat, it is the outer shell which I possess. I shall never get hold of more than a body" (Sartre, Being and Nothingness, 511). Girard's views the culminating moment of erotic passion similarly: "The desiring subject, when he takes possession of the object, finds that he is grasping a void" (Deceit, 164). 
Sartre's largely negative account of coitus as a failed quest for mutuality influences Girard's mimetic theory of erotic desire, which features a subject and its model. Girard writes, "The subject's desire is aimed at the body of the mediator [model]" (159). Thus, for Girard, the "third" in the triad of sexual desire is not a potential lover towards whom the subject and his model direct their competing desire; rather, that third is the model's body. Girard admits that the model may be "incapable of desiring spontaneously" his own object/body. Nevertheless, when the subject reveals his desire to possess the body of the model, the model will copy that desire from the subject: "He will desire his own body; in other words, he will accord it such value that to yield possession would appear scandalous to him" (159; the heterosexual variant features a female model/beloved: "She will desire her own body; in other words, she will accord it such value that to yield possession would appear scandalous to her." This statement IS the description of the coquette). Thus desire triangulates in the absence of a rival: "The beloved is divided into both subject and object in the lover's eyes" (105). Girard concludes that "any reciprocity between the Self and the Other" is precluded (159). Indeed, when no gloss of romance remains to veil desire, an increasingly common phenomenon in the modern era, erotic desire "has degenerated into onanism" (161). Girard does see in literature love triangles created by three individuals. But he does not discuss the embodied, erotic dimension of sexual attraction, in distinction from a triangulated competition between two individuals for the attention of a third. As a consequence Girard never moves beyond the disquieting theory sketched in Deceit, Desire, and the Novel of erotic desire devolving into masturbation. 
In Deceit, Desire, and the Novel, Girard turns to Denis de Rougemont, author of Love in the Western World, a book that reached a huge audience in the 1940s and '50s, to delineate erotic desire from love, commending the conclusion of Rougemont's book to his reader. Writing that "the god Eros is the slave of death" who "thrusts us into the negation of life," Rougemont avers that we can be delivered from desire, "the consumer of life," by Agape (Love in the Western World [New York: Pantheon Books, 1956], 311). Agape is accessed through fidelity in marriage. A faithful man looks at women in a way "unknown to the world of Eros" (313). With a "clear-sighted gaze, the faithful man stands above the "irresistible nature of passion," separating himself from "savage and natural love manifested in rape" and holding to marriage as the "institution in which passion is contained not by morals, but by love" (315). Rougemont views embodied expressions of love with such skepticism that he valorizes Christian mystics who were not married as models for faithful marriage, especially St. John of the Cross who escapes "even the desire of love," is "empty of all covetousness," and treats love with a kind of semi-divine indifference (150, 322; cf. Girard, Deceit, 161). With Rougemont as his guide, Girard sketches what love will look like after conversion from metaphysical disease. It will be freed of all erotic dimensions as Rougemont has commended: Girard contrasts the askesis of deviated transcendence in erotic desire to mystics' vertical transcendence who have been given the gift of God's grace (Deceit, 155). 
Did Girard ever criticize Rougemont's dualistic and negative views toward sexual desire, reclaiming it at least for partners in marriage? Rougemont, a constant companion for Girard across the pages of Deceit, Desire and the Novel, is absent from the final chapter. Haven states that Girard rewrote the last chapter of Deceit, Desire, and the Novelafter his conversion experience (111). If there were references to Rougemont in early drafts of the final chapter, they did not survive that revision. As a consequence, Girard's comments on Proust stand as his last words in Deceit, Desire, and the Novel on erotic desire and love post conversion. Girard expresses disappointment that conversion is "rather slow to penetrate" Proust's erotic desire and does not "definitively assert itself." "Proustian eroticism is today the eroticism of the masses" states Girard, contrasting that with love within the Christian monastic tradition (285). Girard offers his readers no vision of embodied, erotic desire and love post conversion. 
Searching for sex-positive statements by Girard, I turn to comments he made at the beginning of his 1997 D'Arcy Lecture at Oxford: 
Father D'Arcy has something to do with the ideas I have developed all my life. When I first came to the States, Denis de Rougemont's book, Love in the Western World, was very popular, and Fr D'Arcy had written a book which was in part a refutation of it. It was a well-known controversy, and in America you still find the two books side by side in good bookstores. They are books about the role of violence in religion, even though the word "violence" was not yet fashionable.
That Girard describes Rougemont's book, which presents itself as a criticism of romantic love in the West, as a book about the origins of violence in religion is fascinating. To my disappointment, while offering a lucid account in his lecture of the main points of his mimetic theory, Girard does not qualify Rougemont's views on embodied love and erotic desire nor does he allude to the contents of D'Arcy's book. Girard does describe tensions in interpersonal relationships in which partners develop feelings of hostility toward each other; he also mentions the mimetic love triangle in Shakespeare's The Two Gentlemen of Verona. But he does not state from his vantage point in 1997 whether he has accepted any of D'Arcy's refutation of Rougemont's theory of erotic desire and love. 
In Girard's later work, even as Girard discussed with ever more subtlety the joining of human history and personal story in human violence, the play of embodied desire in love and sex largely fell from view. Remaining from Deceit, Desire, and the Novel in Things Hidden since the Foundation of the World is only the figure of the coquette who Girard will later describe as a "fundamental" concept in the development of his theory of mimetic desire. (In the introduction to La conversion de l'art, Girard writes that "la coquetterie est fondamentale pour la théorie mimétique." René Girard, Benoît Chantre, and Trevor Cribben Merrill, La conversion de l'art [Paris: Flammarion, 2010], 20–21.) 
Outside the Girardian corpus, the coquette as trope has not aged well. As Toril Moi observes, a woman who is unresponsive to her date is not necessarily in bad faith; she may be uncomfortable with flirting (Toril Moi, Simone de Beauvoir: The Making of an Intellectual Woman, [New York: Oxford University Press, 2009], 153). Or, perhaps, the woman is flirting, but the man is misreading her. Moi observes that flirtation sometimes is "a playful activity with no clearly defined sexual aim": "You make me feel attractive, I make you feel desirable; I brighten your day, you brighten mine" (129. Recent studies in the social sciences support Moi's view of flirtation: Brandi N. Frisby et al., "Flirtatious Communication: An Experimental Examination of Perceptions of Social-Sexual Communication Motivated by Evolutionary Forces," Sex Roles 64 [2010]: 682–94; Jeffrey A. Hall and Chong Xing, "The Verbal and Nonverbal Correlates of the Five Flirting Styles," Journal of Nonverbal Behavior 39 [2015]: 41–68). A range of distinct aims accrue to flirtation: engaging in playful fun, advancing sexual relations, increasing relational intimacy, exploring another's interest in a relationship, enhancing self-esteem, or gaining rewards (Frisby et al., 683). But Sartre and Girard are oblivious. For both, the man's goal is clear; the woman must be aware of his intentions and her refusal to cooperate is in bad faith. But that is true only if a couple shares a single project of freedom, to use Sartre's language. 
Unlike lynching, grounded in the dynamics of what today we call white privilege and desire, to which Girard brought understanding so deep that his concern for lynching melded with his personal story, Girard only obliquely evinces in his work a deep understanding of love and erotic desire. These themes are not joined with the personal story that, as Haven has shown us, is woven through his life's work. Girard acknowledged to Haven that he spent three years at Indiana University "devoted essentially to women and cars" (59). Haven also describes in nearly idyllic terms the courtship and marriage of Girard and his wife Martha. But a discussion of ways in which the human history of love and erotic desire meld with personal story, a project for which the existentialists served as trail blazers in 20th century thought, is largely left unsketched by Girard. 
Cynthia Haven Responds
Several years ago, Bill Johnsen invited me to develop a book idea about René Girard for Michigan State University Press. After some thought, I pointed out that nothing had woven together the work and the life, with the aim of creating a "good read." Martie didn't want it to be a page-turner, well… I kind of did. But not that only. I knew that ordinary, educated people who wouldn't ever pick up a discussion of René's theories, just might read about his work if it was embedded in a narrative, the story of a man. And it's a good story, a story with a happy ending, perhaps even a triumphant one.
To do that I had to explain why his life mattered, and why his theories matter today. I would have to take a body of ideas, and make these ideas felt. That wasn't easy, but worthwhile things usually aren't.
The biography business is ruthless. When writing a book like this, you have to be prepared for friendships to break, even with people you care about. You have to take risks, and do what's best for the book. If I were trying to please René or Martha Girard, or any of the other cast of characters, I knew I wouldn't write anything worth reading.
While you're writing, your friends have to be your future readers, who are largely imagined, anyway. So I've been gratified to find that there have been so many of them, with more joining them daily. The reviews have been glowing and we went into a second printing within weeks of publication. One couple wrote me that they were reading the book a second time—to each other, aloud. Others read the book in a single sitting. James Winchell, writing in Tablet, explained how René converted him to Judaism and concluded, "The book is alive." The book was mentioned on the floor of the Académie Française.
Kevin, what a lovely piece that is, thank you! Like you, I find René's offhand line endless in its implications: "All desire is a desire for being." Our longing is to be the model, and you're right—it has infernal implications. It reminds me of Oscar Wilde's line: "Be yourself; everyone else is already taken."
Your comments also bring us back to the title, Evolution of Desire. People have asked me why I chose it. I ran across it in Things Hidden: "In effect, desire is responsible for its own evolution…. Desire is always using for its own ends the knowledge it has acquired of itself; it places the truth in the service of its own untruth, so to speak, and it is always becoming better equipped to reject everything that surrenders to its embrace…" (René Girard, Things Hidden Since the Foundation of the World [Stanford, CA: Stanford University Press, 1978], 304). It's a thought that's devastating in its ramifications, but it got me thinking about other aspects of the "evolution of desire."
Evolution of Desire not only had a nice euphony going for it, but it had other resonances for me. This book traces the development, or evolution, of his thought, from the first inkling of mimetic desire, to envy, to violence, to sacrifice, to the ending of the world. But it had another meaning, too, and Kevin, you have captured it with the words of Virgil speaking in Purgatorio. It's worth repeating:
And the more souls there are who love on high,
the more there is to love, the more of loving,
for like a mirror each returns it to the other."
(Dante, Purgatorio, XV.67-75, trans. Jean Hollander and Robert Hollander)
That is the evolution of desire, its ultimate aim.
As you wrote: "One can begin to unlearn the habits of mimetic desire, in the usual Girardian sense, but only by seeing it in the light of the true mimesis, the mirroring of love that leads to excess, not loss."
Writing Evolution of Desire was not only a ruthless business, it was often a perplexing one. I couldn't begin with what a biography should be, I couldn't begin with an outline of what the contents were going to be. I had to go where the material led me, and sometimes it led me into strange places, and then I had to find a way to express them. I had to let the material teach me how to write the book. The material had to shape the form, and not the other way around. It was a remarkable creative process for me, and the biggest challenge of my professional life.
Martie, I'm glad you think that Evolution of Desire "does not invite engagement, it demands it." That's what I wanted, and it was indeed stumbling block. I was warned by several people that René had no external events in his life, that his life was all in his head. To some extent that was true, but certainly not always. I did have to widen the aperture, to talk about his times as well as his life, and how he responded to them and how they illustrate his work, and consider the friends and colleagues who played key roles in his life. So to create a page-turner under such circumstances was a challenge.
I can't contribute anything to your thoughts about embodiment. It was an area of Martha and René's lives where I felt I could afford them some privacy and dignity. But Martha did once tell me that one reason their marriage was so successful was that she was low-maintenance and didn't make a fuss—not even when birthdays, or even their fiftieth anniversary, went unremarked and uncelebrated. And far from being an idyllic courtship and wedding, I think it was rather ordinary.  Except that perhaps for them the honeymoon never ended. (Their Mexican honeymoon, incidentally, was shared with another couple.)
I'm rather leery about calls to action. Many of the phrases and memes that dominate our thinking and discourse come from the media. I've worked in newsrooms, so I know the shops where that sausage is made. As Gil Bailie said of moral indignation,
"The Gospel's insistence on forgiveness is both profound and pragmatic, but we cannot fully appreciate either until we realize how routinely moral indignation leads to the replication of the behavior that aroused the indignation. Moral outrage is morally ambiguous. The more outraged it is, the less likely it is to contribute to real moral improvements. Righteous indignation is often the first symptom of the metastasis of the cancer of violence. It tends to provide the indignant ones with a license to commit or condone acts structurally indistinguishable from those that aroused the indignation. When moral contempt for a form of violence inspires so explicit a replication of it, there is only one conclusion to be drawn; the moral revulsion the initial violence awakened proved weaker than the mimetic fascination it inspired." (Violence Unveiled: Humanity at the Crossroads, [New York, Crossroad: 1997], 89)
We live in a time of uncontrolled public fury and mass hysteria, a time of witch hunts. People claim to be appalled by our president, fantasize his death, and yet cannot turn their eyes from him. As René said, fascination is always a sign of mimetic entanglement. What does it take for us to turn off the screen?
I think of Charlottesville, where young men raised their arms in the Nazi salute. Before, they were jobless adolescents living in basements. They put on a mask and hold a tiki torch—and now they have power, and we fear them. If they had been left to wield their cardboard shields, as the ACLU wished, would the whole episode have been forgotten by the next day's news? I wonder. Counter-demonstrators and an angry nation returned the hate, and so we sustained the thing we fear. How did we create these mimetic doubles? What in us craves this dark fantasy?
We direct the same hatred at many sectors of our society—think of the Walmart shoppers, the creationists, the anti-vaxxers. We are pouring gasoline on the flames. We sustain these dualities, these mimetic rivalries. Hatred won't save us. We know that, but we believe in the hate. We have to realize we are the lynchers, every day.
We have graphic sex scenes in our movies, in our advertisements. The biggest moneymaker for the internet is porn. Our doctors assure us that sex is indispensable for health and happiness, and the more the better. James Bond has sex with many women a day, and Hugh Hefner dies as a cultural hero. So the mimetic 20-year-old kid whose last awkward date was a year ago feels like he's been cheated. Society tells him he's out of the club. The media has offered many explanations for incels, except the obvious, mimetic one. Are we surprised in their resentment they band together? Are we surprised that some of them want vengeance?
I oversimplify, of course. But the truth is, the only hatred I can cure is my own, or at least my own first. It's not that people scapegoat, it's that I do. Not only other people are rivalrous, I am. We are the ones that have to turn off the hate—our hatred of them. It's not only Trump who is aggressive on his twitter feed—many of us can't dial back the snark, and unfortunately sometimes I'm one of them. With this difference: I should know better. We can take a step away from the herd. You don't need a dissertation or triangles on chalkboard to recognize a mob in action. A mob has a smell to it. We can learn to mistrust social momentums.
But it is dangerous. If you don't howl with the wolves, the wolves will howl for you. As René wrote: "We must see that there is no possible compromise between killing and being killed.… For all violence to be destroyed, it would be sufficient for all mankind to decide to abide by this rule. If all mankind offered the other cheek, no cheek would be struck.… If all men loved their enemies, there would be no more enemies. But if they drop away at the decisive moment, what is going to happen to the one person who does not drop away? For him the word of life will be changed into the word of death.
"It is absolute fidelity to the principle defined in his own preaching that condemns Jesus. There is no other cause for his death than the love of one's neighbor lived to the very end, with an infinitely intelligent grasp of the constraints it imposes" (Things Hidden, 211).
---
Wolfgang Palaver 60th Birthday Celebration
Wilhelm Guggenberger
Wolfgang Palaver celebrated his 60th birthday on 27 September 2018. To introduce him in the context of COV&R seems absolutely superfluous as he is not only a long-term member and former executive secretary and president of our association, but always was and still is an inexhaustible source of inspiration for many of us. By this he—the disciple of Raymund Schwager and intimate friend of Martha and René Girard—has helped to shape the development of COV&R remarkably to this day.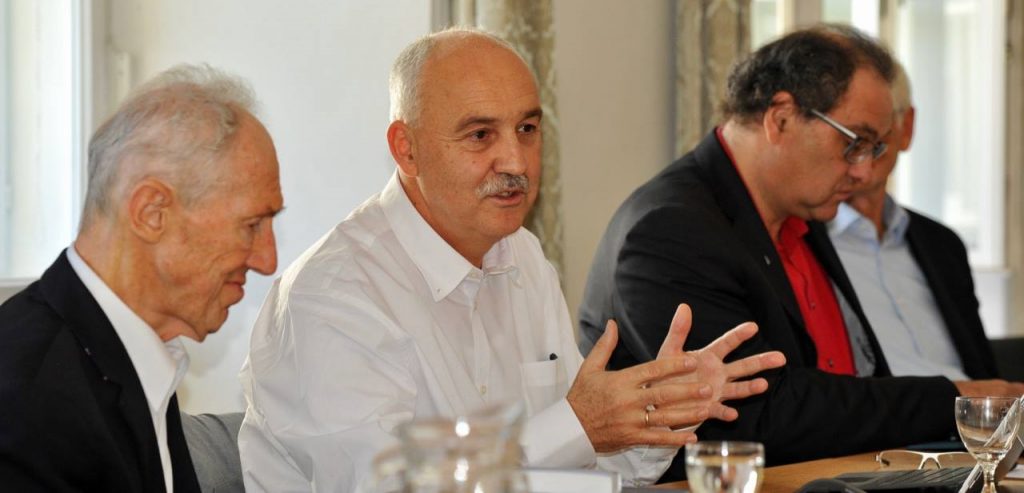 Because Wolfgang was using a sabbatical to participate in a research program about violence and religion at the Center of Theological Inquiry in Princeton, the official celebration of his birthday in  Innsbruck could only take place on the 5th of October. Part of this celebration at the Catholic Theological School was a solemn tribute including addresses by the principal of the university, the dean of the school, the representative of the diocese, and members of Pax Christi as well as a lecture given by Prof. Hansjörg Schmid from the University of Fribourg in Switzerland. Schmid's topic was the development of interreligious social ethics. Even if this topic signifies a central concern of Wolfgang, we were convinced in advance that the traditional form of such an academic celebration could not be adequate to this particular birthday boy.
Therefore the head of the department of Systematic Theology, Roman Siebenrock, decided to organize something he called a laboratory. What does that mean? A laboratory is where scientific work takes place in a collaborative style, where new ideas are tested and established theses are challenged to gain sounder knowledge. It was exactly this that a group of colleagues from the University of Innsbruck and some guests tried to do together with Wolfgang for a day. The established theses were given in texts published by Palaver according to five decisive topics of his scientific work: violence and religion, capitalism as religion, democracy and populism, non-violence and ethics of peace, and the connection or tension respectively between political philosophy and political theology. To each of these topics responses were given by colleagues who have been accompanying Wolfgang for a considerable time. Some of these impulses were pretty critical even if appreciating the work of the author. This was quite intended because we did not only want to honor our colleague and friend but do together with him what he likes to do most: discussing challenging questions. Of course Wolfgang was given plenty of time to respond and to unfold his thoughts, which again showed that scientific discussion to him is no l'art pour l'art, but rather becomes meaningless when it is not understood in a way to serve the development of better life.
It is not possible to record the vivid discourse which arose that day. I only want to mention a few moments interesting to mimetic thinking in general. One topic occurring time and again is the relationship of religions. In our context it was triggered by a discussion about Hölderlin, who plays an important role in Girard's Achever Clausewitz. The biography of the poet seems less interesting to Palaver than the close kinship of Greek pagan deities and Jesus Christ depicted in Hölderlin's hymns. This observation is a perfect starting-point to more precisely discuss the complex relationship between archaic religions and biblical revelation in Girard. There cannot be an absolute contradiction; otherwise the longing for peace even recognizable in the violence of the scapegoat-mechanism could not be understood in a convincing way. This opens up the Girardian approach much more to an interreligious dimension than does the view that sees a stark opposition between the revelation of the gospel and archaic or non-biblical religions.
Another, closely related discussion is whether the anthropology of the mimetic approach is merely pessimistic or not. Is the center of our considerations the human being created good by God or is it the corrupted sinner totally prone to violence? To me this seems to be a very important question that makes it important not to emphasize Augustinian thinking in Christianity too much. In this context theological thinking becomes really influential according to the assessment of political, juridical, and also economical institutions. One part of this discourse is the enigmatic biblical concept of the katechon. To Palaver, and to me as well, this concept seems to be quite helpful to integrate real politics on the one hand and the expectation of the kingdom of God on the other without becoming either merely pragmatic or escapist.
Last I want to mention our discussion about kenosis, which during recent years has become more and more a crucial point in Wolfgang's thinking and, more than this, in his spiritual life. Jesus Christ is the humble servant of God. In him God encounters with us giving up each kind of compelling power. Thus our image of God is shaped by the idea of kenosis, which sometimes is depicted in the way of a withdrawal of God who has to make room for human existence. Even if such formulations are part of several spiritual traditions, they could be misunderstood in a way that induces the destructive imagination of rivalry between God and man as if humans could only exist in the absence of God.
I am sure our discussions will go on, especially when Wolfgang has come back to our faculty from Princeton with a lot of new ideas in his head and a lot of new literature in his data bank. To all of you a possibility to participate in this discussion may be the COV&R Meeting in Innsbruck next July.
---
Letter from… Bogotá
Roberto Solarte
Pontificia Universidad Javeriana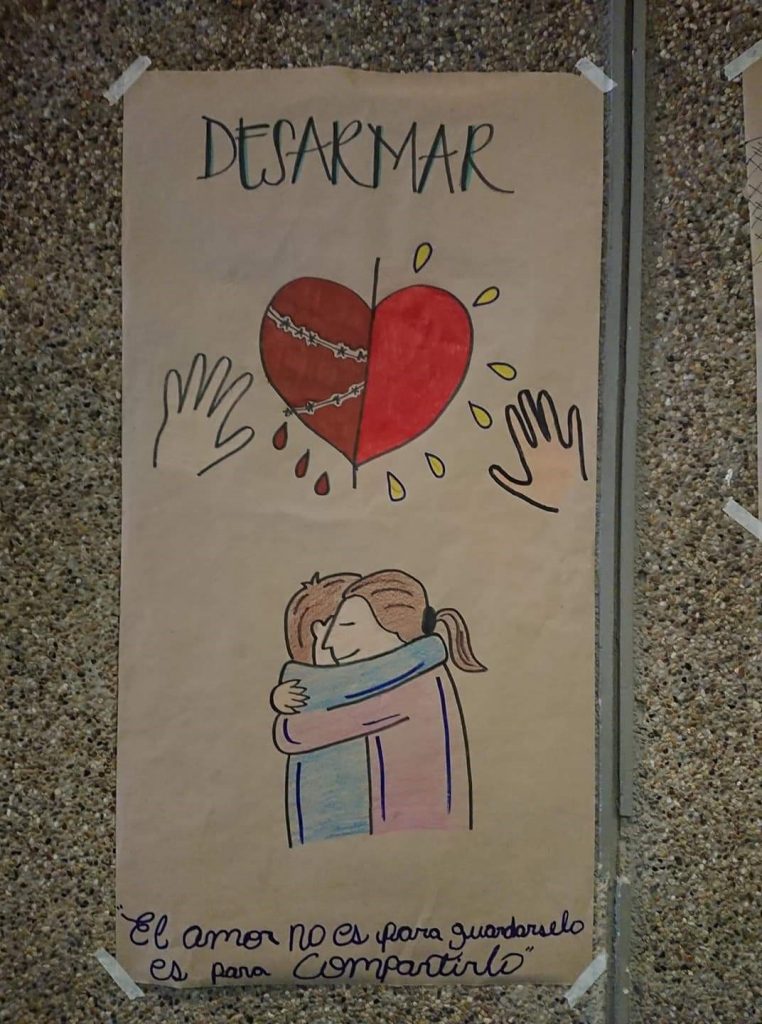 As a research group in philosophy and theology from the Pontificia Universidad Javeriana, we study the relations between the former expressions of "Liberation Christianism" and the construction of peace and reconciliation in Colombia nowadays. We have also designed a non-formal educational process oriented towards the youth; it´s called Diplomate Course in Juvenile Participation for Peace and Reconciliation. For that educational process, we work in cooperation with the social program from the Faculty of Engineering, the Fe y Alegría Foundation, Bogotá´s Town Hall, and many volunteers.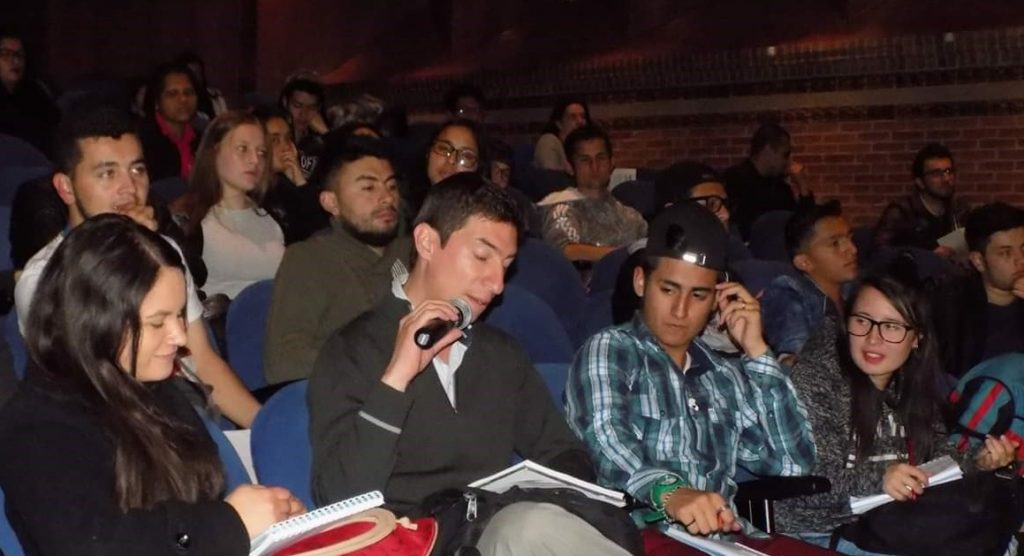 In addition to recollecting experiences from the ecclesial communities in their popular ground, we have tried to translate several elements of the mimetic theory into popular education. For this, we promote positive models of resistance to the violence and reconciliation in the communities in which we have worked. We believe that in this way we promote creative ways of peace building. As this is not enough, we have focused this process in a spirituality of nonviolence that makes possible the growth of the communities and social change renouncing violence.
---
Book Reviews
For inquiries about writing a book review or submitting a book for review,
contact the book review editor, Matthew Packer.
---
Hope and Grief
Robin Lathangue
Sacred Heart College, Peterborough, Ontario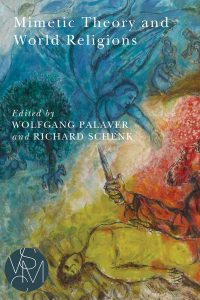 Wolfgang Palaver and Richard Schenk, eds., Mimetic Theory and World Religions, East Lansing: Michigan State University Press, 2018.  Pages xxii+456.
René Girard's theories are conceptual levers useful for prying apart lids on the jars of some beautifully difficult questions—not least, those about academic nomenclature. Fellow Académie Française immortel Michel Serres called Girard "the new Darwin of the human sciences," but is Girard's oeuvre best characterized as scientific, humanist, literary, psychological, theological, anthropological, or none, some combination, or all of these? 
What makes this anthology a challenge to review is that the puncture-resistant boundaries between cognate disciplines are rendered permeable, even porous, by the capaciousness of carefully applied Girardian analysis. The resulting commons is an intellectual, sometimes scientific, at times spiritual, certainly humanistic going concern, and no place for the faint of heart. 
Weighing in at fifty-plus pages is the essay by Anselm Tilman Ramelow, appearing very early on, and bringing Girard into dialogue with G. W. F. Hegel as interpreted through the famous lectures that Alexandre Kojéve gave on The Phenomenology of Mind. The shortest essay, ten pages by Adam Eriksen, appears near the end, and focuses on mimesis and the radical monotheism of Islam. It needs to be said that this is something other than an introductory text. However familiar one is with Girard, one needs to buckle up and get ready for dialogue with theorists of repute: Hegel, Rousseau, Charles Taylor, Henri Bergson, Simone Weil, Pope Benedict XVI, Julia Kristeva, Raymond Schwager, Richard Dawkins, Emil Durkheim, W. T. Cavanaugh, Lonergan, Voegelin, Nietzsche—the list goes on—together with excerpts from texts (and their myriad commentators) foundational to several of the religions of planet earth. All this and Girard, too.
I start by recalling Gillian Rose, in The Broken Middle (1992): Girard's work "assimilates biblical 'myths' to World Mythology under the sign of the scapegoat, and also identifies in them the stirrings of a demythologizing impulse which culminates in the Gospels." Where there is talk of myth, there is soon talk of religion, and the essays in this collection cluster around a handful of related, more granular issues.
1. The character of Girard's work on religion
How to specify that which Girard never fully did: a theory of religion? In his essay for this anthology, Jean-Pierre Dupuy argues that Girard's theory of religion is ambiguously located between the cognitivist and Durkheimian theories of religion, revealing the limitations of each: the cognitivists fail to see the role of the sacred in constituting human societies, while the Durkheimians over-emphasize morality in Christianity at the expense of its power as an epistemology to convey the truth of the sacred. 
Was Girard a scientist or prophet? Is his work best understood as a secular, empirical hypothesis or as a revealed prophecy of the end times? Otto Kallscheuer addresses these questions in his contribution by rejecting the idea that Girard's thesis has anthropological or social-scientific merit. He instead sees it as a meta-scientific challenge: more a "universalistic provocation" than a testable hypothesis. In the end, according to Kallscheuer, Girard himself is undecided on which side of the secular-eschatological divide one should locate mimetic theory. 
Sandor Goodhart avoids the difficulty of having to choose either side by arguing for the Jewish provenance of mimeticism, claiming that Judaism is nothing if not the exodus from archaic religion. If Girard's mediator is Jesus, then Jesus's mediator is Isaiah. The founder of Christianity enacts the text of Isaiah, making it his own life story and transforming his life into a rabbinic "site of instruction." Jesus and Judaism—through Isaiah's anti-sacrificial and anti-idolatrous teachings—are together "Girardism before the fact."
2. The therapeutic uses of mimetic theory
John Ranieri deploys Girard to illuminate and critique Eric Voegelin's sense of reason and revelation as a continuum. Both theorists comprehend and embrace the therapeutic, restorative, if somewhat compromised, aspects of reason as a bulwark against the disruptions of the civil order via biblical and/or prophetic revelation. But in his fusion of reason and revelation, elegantly traced by Ranieri, Voegelin titrates out any appreciation of the mechanisms of sacrifice, scapegoating, and victimization that underpin and sustain the political civilities that he so highly values. He thus unwittingly delays the arrival of a language, shared amongst the world's religions, that might serve irenic purposes. Girard, Ranieri argues, can go at least one step farther along this salutary path because he knows that the structures and practices required for political civility are rooted in victimage. 
One intriguing way a Voegelinian could make progress here would be to open up the idea that sacrifice is a vital part of both noetic and pneumatic apprehension. This opportunity is amply explored in the essay which to my mind ought to have followed Ranieri's in this collection (it preceded). Anselm Tilman Ramelow homes in on the role of sacrifice as a motif in Hegel's thought (seen through the prism of Alexandre Kojeve), and how sacrifice and inward practices of victimization nourish the phenomenology of a mind resolutely en route to Subjectivity. (I'll have more to say on this when we turn to the mechanics of mimetic theory.)
Along these lines, Ann Astell places Pope Benedict's call for a certain kind of reasoning alongside mimetic theory, seeing Christianity as a third way between rationalism and fideism, in opposition to the sacrificial pathologies of both religion and reason that occur when the two become completely separated. It is a "cruciform rationality" alone that can make sense of, endure, and ultimately triumph over the violent order of things. What we need is a rationality capacious enough to bridge the gap between the sciences and religious faith. By placing both scientific discovery and religious insight on the continuum of a graduated, "Hellenic" rationality, Astell uses Girard to light the way for deep-reaching dialogue of cultures between science and religion and among the world religions.
According to Jeremiah Alberg, the different kind of rationality we find in Girard could be called the "rationality of the victim" and it has salutary properties as regards repeated attempts at human mastery of the planet. Using Rousseau as his foil, Alberg distinguishes Girard from Rousseau by tracing the difference of the kind of unshakeable grounds upon which they try to build heuristic systems. For Rousseau, the apparent foundation is the natural goodness of humans with a rejection of the doctrine of original sin. Alberg questions this form of Pelagianism, arguing that the real foundation for Rousseau is the rejection of grace or forgiveness that also takes away the light by which one sees original sin for what it is. Girard, in contrast, sees original sin as what defines humanity, as "fundamental"—but fundamental without being foundational. Girard is implicated in his own analysis in a way that Rousseau could never be. This victim-sensitized reflexivity is a new type of rationality. 
Benoît Chantre draws attention to the messianic impulse that continues to shape history, and which sources the hope that peace and justice will finally be achieved in the "concert of nations." Using the work of Henri Bergson, Chantre argues that this victory is never assured because it presents at once its "open" side and its "closed" side. The "categorical and transcendent" justice, which no longer accepts the idea that an innocent should be sacrificed to the state, maintains the essential ambivalence of the crucifix that was once hung on the walls of courtrooms. It is a crux at the center of the closed transcendence of stagnant societies and the open transcendence of absolute innocence, a crucible "which, little by little, in the way a tenacious but nonetheless vital illusion is gradually dissipated, exceptional figure by exceptional figure and creation by creation, outlines the true face of man and the true face of God." This is beautifully put. And such is the slow process of hominization accelerated by the Christian event, according to Chantre.
We might accept the Abrahamic revolution as the overcoming of the archaic religion of human sacrifice, according to Wolfgang Palaver, but this does not help us explain contemporary threats of religiously motivated violence. Why is it possible to find people from all three Abrahamic traditions who are willing to legitimate violence? The insight that we human beings are never completely free from entanglements in the common complex of sins applies also to the relationship between the Abrahamic revolution and archaic religion. The more we think we can break free from the violent past the more we are in danger of increasing our dependency on scapegoating.
For Palaver, there is always the possibility of either slowly transforming the archaic world toward the perspective of the Kingdom of God or of cutting short a long and difficult path by violently eradicating the archaic past. Modern terrorism and many types of fundamentalism—including secular forms—represent attitudes that want to snap completely free from the past. We are, however, in need of attitudes that are ready to deal with our own real involvement in violence and search for a common attempt to overcome it. The theme of psychological self-insight resonates in Wolfgang Palaver's compelling idea of an "ontology of mercy."
Traversing our own hostility is a focus for James Alison as well. We track it by understanding and acknowledging the anthropological shape of our idolatry. This is tricky because, alongside characterizations of the otherness of God, we have, according to Alison, indications that these characterizations are not so removed from our human capacities that it is simply inconceivable that humans might be in some way like God. In the Gospel according to St. Matthew, we are encouraged to "Love… pray… so that you may be sons of your Father." We also have an indication of what criteria constitutes the sort of activity by which some degree of similitude to God becomes discernable: "Love your enemies and pray for those who persecute you." In other words, the similitude is to be found in the sphere of desire stretched by the presence of some specific private and social patterns of behavior.
Alison sees in God a sense of "being for" that is both personal and yet excludes any sort of "over against." This latter is "massively mysterious," such that it is difficult for us to imagine any but negative content to it. Here, Alison turns to St. Paul. The Apostle's starting point is that he was an enemy of God, and yet he was reached by the one whose enemy he had been. Jesus on the Damascus road was to Paul someone who believed in him. Not only is this a relationship toward someone that ends in them as an object of one's belief, but it can be a powerful attitude that enters into the person-as-subject such that they, knowing themselves believed in, can do much more than they might have done. God's being "for us" begins to show itself only in and as we attempt to prune our senses of "for" derived from rivalry, vengeance, and over-against. Alison concludes that grace perfects nature through a very specific social shape: having our hostility undone by One who has approached us from within the center of our hostility.
Quite apart from hostility, it is the ubiquitous compulsion to self-exculpation, according to Ted Peters, that suggests a bondage and self-delusion from which Girardian self-insight might free us. The sacrifice of which the Girard school speaks applies to any social order and not merely to an established religious tradition. As a consequence, it casts light not only on the concept of sacrifice but also on human nature in general. In the shortest, possibly pithiest, statement in the entire collection of these essays, Peters observes: "We lie." We lie individually and interdividually, and Girard's description of the scapegoat mechanism shines light into that dark corner—namely, the human tendency to justify self while scapegoating others.
Martha Reineke's refreshing perspective is on the effects of positive mimesis—an innermost mediation, experienced through the paradigm of Christ, that transforms imitation and "opens the door to the other side of violence." From this angle, mimetic desire in itself is neutral, but it can pivot in either direction. With the help of Julia Kristeva and a revisiting of Girard's early work, Reineke shows how access to positive mimetic desire is through sensory experience, which can take human intimacy beyond the constraints of law and sacrifice.
3. The mechanics of mimetic theory
In an intriguing contribution, Anselm Tilman Ramelow identifies the master-slave pattern of Kojéve/Hegel as key to understanding sacrifice: We identify who we are by demonstrating what we are not; the primordial self is a "fact-act." Because of this, the negation that constitutes our identity is a practical negation; it is a sacrifice. Admittedly, the word "sacrifice" might not play a major terminological role in Hegel's work, but Ramelow sees it as ubiquitous because of the role of negation as a form of death. It seems to be anthropological constant, part of life as human life.
He further shows how the battle for recognition between master and slave is reminiscent of the sacrificial crisis as an escalation of false differences into false identities. Self-consciousness demands a recognition by the consciousness of the other, and mimetic desire maps onto this because of what Hegel characterizes as the desire for the desire of another, a double desire. What comes into view are the mechanics of sacrifice as dialectical and reminiscent of Hegel in The Phenomenology of Mind as read by Kojéve: double mediations, double transferences, models as mediators or go-betweens between subject and object. 
As a Christian and not an Hegelian, what I am most troubled by in Ramelow's essay is the view that both Hegel and Girard see the Christ event as primarily a cognitive event. It might change the mind of a community; it does not affect forgiveness or atonement, nor does it merit grace for our personal sake. This is not true, but it reveals what in fact takes place alongside the Cross which for Hegel, is revelatory of an already existing reconciliation, and for Girard, a chthonic insight into the evil of the sacrificial mechanism. 
4. The status of Christianity in mimetic theory
Given Girard's specifically Christian understanding of the role of Christ in unveiling the scapegoat mechanism, how should the teachings and insights of other world religions be evaluated? In addressing this question, Robert J. Daly considers the evidentiary value of mimetic theory, that being its heuristic use in helping make sense of so much human history and experience. If mimetic theory has not yet been examined for evidence, it still "works" as 19th century medical hygiene "worked"—it saved lives before biology furnished the bacteriological evidence to support what was first just a theory. As a theory, it seems to have momentum.
The core of this theory is a specifically Christian understanding of the role of Christ in "unveiling" the scapegoating sacrificial mechanism. This, and mimetic theory's claims to describe the processes of the human mind at work in every field of knowledge and understanding. When, on these grounds, we filter out mimetic theory from Christianity, the following problem comes neatly into view: Do we try to find in the religions of planet earth correspondences to mimetic theory, using Girard's formulation as our hermeneutic key? Or, rather, should we search in the other religions for ways in which, in their terms and in their language, they try to deal with violence and related issues?
Girard claims that mimetic theory—or at least an essential component of it—is present in the founding myths of Vedic sacrifice, and thus at play in the subsequent distancing of the Brahmanas from sacrifice and the subsequent rejection of it in Buddhism. It is with Buddhism that mimetic theory's conversation with the other world religions seems to be the most advanced. Buddhism offers a centuries-old tradition of reflection on the role of desire in the construction of an illusory self, as well as a body of practical wisdom on non-violence. Another connection lies in the fact that for Buddhism, as for Girard, desire is understood as fundamentally metaphysical. The doctrine of anatta ("no-self") closely parallels the "self of desire" seen as a transitory configuration of memory and desire.
So much for complementarity among the religions. The hard grit of incommensurability returns in trying to discuss mimetic theory in relation to Islam. (More on this below, in connection with essays by Rüdiger Lolkher and Adam Ericksen.) Daly notes that Girard himself attempted to wrestle with this challenge: "But he, and we with him, seem to be still struggling to find a breakthrough to a hoped-for constructive dialogue." Daly suggests that terrorism may be as much a threat to Islam as to Christianity or the West: "In a perversely paradoxical twist, do we need to band together with Islam in scapegoating terrorism?" How that might play out in foreign relations is not considered but it is a good question. In Daly's view, we are left with a bullet list of challenges that are still searching for a coherent solution clustered around archaic religion, fundamentalism, the alleged superiority of Christianity, martyrdom, history, and the religious/secular and church/state binary distinctions. Daly is with the humble Girardians.
In his contribution, Michael Kirwan observes that interreligious dialogue is both desirable and unavoidable, which is a very positive start. But there is a tension between the clean, streamlined attractiveness of mimetic theory and the more painstaking reality of authentic interreligious dialogue. What the dialogue requires is a patient search for analogies, rather than a triumphant demonstration of straight correspondences. This is difficult enough; to make matters worse, Kirwan argues, some of the key vocabulary of mimetic theory is value-laden. Terms such as "primitive society" and the "archaic sacred" seem to have a needlessly provocative tone and leave mimetic theorists open to the charge of cultural superiority. And then there were the events of September 11, 2001. These and other actions of militant Islamists have challenged any easy optimism about inter-faith harmony. Mimetic theory here finds itself at the intersection of both openness and anxiety. It is, in Kirwan's words, a "stammering conversation."
But there are grounds for hope. Reading the Bible through a mimetic lens could be a conciliatory act, affirming the biblical origins of both Judaism and Christianity and denying either tradition superiority. There remains, however, the need for transformation or conversion from the mimetic trap of scapegoating and violence, toward relations of spiritual connection and peace. Kirwan admits that finding a way to articulate this concern in language that is not Western or ethnocentric is a major challenge. Perhaps a tradition for dialogue between Jews, Christian, and Muslims can be located around Genesis 37-50 and Qur'an sura 12, the story of Yusuf/Joseph, as an alternative focus to the figure of Abraham. Since 9/11, however, Kirwan notes that there is less optimism among mimetic theorists that positive mimetic elements can be found in other religions. 
Kirwan is clear on the need to balance imperatives of inter-religious dialogue and the uniqueness of Christianity addressed by various theologians under the rubric of comparative theology. But he sees that attempts at a neutral standpoint, above the fray, merely flatten out the gritty specificities of belief and practice on either side of the dialogue. If the truth of sacred violence and its overcoming is not the unique possession of any faith tradition, then maybe we should aspire to dialogical non-reductive pluralism. Yes! Always and everywhere. But, "God is not one," to quote Stephen Prothero. At this point, one has had enough of obstacles. Kirwan's belief that mimetic theory has something to offer non-Western cultures is warranted, provided it is not applied in a procrustean manner.
5. Mimetic theory beyond Christianity
The anthology tackles the status of mimetic theory apart from Western traditions by putting an intriguing set questions: How does a Vedic understanding of fire refine Girard's already firm grasp of the apotropaic function of sacrifice? How does Buddhist thought help to differentiate the relation between the killer and the killed in the sacrifices theorized by Girard? How applicable is Girard's theory to Hinduism, especially regarding the (contested) concept of sacrifice? What "stirrings of a demythologizing impulse" can be found in the Qur'an on the question of jihad?
In Hindu studies, fire is one of the central elements of the ancient Indian ritual system of large-scale, solemn, and sacrificial rites, sometimes undertaken in a public space and at other times in the household. It represents both creative destruction and a quietist withdrawal and is associated with the deity Agni: he that is eternally hungry and all-consuming, fed by sacrifice, firstborn of the gods, ruling humankind, present in all people, the pillar of human society, identical with the sacrificial victim, defusing conflict, and whose proper understanding grants victory over death. All of this, as Brian Collins shows, resonates with Girard's understanding of the violent sacred as the source of human community.
In this admittedly "somewhat heterodox reading" of mimetic theory, the alchemical is significant: the transformation of a base substance into something of value. Mimetic desire also transforms a base substance into something of value by making it the object of another's desire. The key to understanding this Vedic theme is in the agency of the gods: there is no object of desire until the gods engage in rivalrous conflict with the demons. The object only exists when both parties desire it. One might wish we and the gods could avoid this, but whenever "it" comes into existence as the protean object of desire, it immediately becomes a complicated focal point of erotic desire as well. 
In Collins's view, the primary processes of mimetic theory do not originate in a hypothetical moment in which a pack of proto-humans, in the grip of a spreading contagion of mimetic rivalries, turn on one of their members and kill him, expending their aggression and bringing a feeling of peace and equilibrium. Mimetic structures appear alongside the death of the sacrificial victim. The founding moment of culture is the second killing, the one that is performed to renew the salutary effects of the spontaneous killing. Early humans, unable to cultivate fire, had to conserve a naturally occurring flame (say, from lightning) in order to benefit from its light and heat. It was necessary to avoid both the extinguishing and the uncontrolled spread of fire. Framing this in Girardian terms, Collins argues that the found fire is analogous to the spontaneous lynchings in the early human communities which had the effect of stopping the spread of violence. For its part, the cultivated fire, kept alive from the original, "must have carried the memory of the destructive possibility of wildfire."  For Collins, this makes it analogous to the sacrificial ritual instituted to recapture the social cohesion that resulted from the found fire symbolic of the earlier impulsive killings. For human culture, the conserved fire, later kindled and controlled, is key.
In Buddhist, yogic, and Vedic ideas Collins sees an awareness of the violent sacred as an appalling "undeath," founded on a god that is dead and, because he is dead, can never die and can only bring more death. But there is as well an awareness that one needs to cope with fire to escape the pull of the violent sacred. In the Buddhist case, the fire is extinguished; in the yogic-alchemical case, it is internalized hospitably by the practitioner; and in the Vedic case, deployed to salutary effect in ritual.
According to Jacob Dalton and Alexander von Rospatt, Buddhism is not free from violence and Buddhists have been involved in not only the perpetuation of violence but also its condoning and sanctioning. Has this truth hit the consciousness of the general public in North America? No, but let that not be a distraction. To apply Buddhism to mimetic theory, we are invited to imagine what Buddhists might have to say, first, about the psychology of the individual and the central role that desire plays in the construction of the self; second, about sacrifice and role it has in tantric Buddhism; and finally, how a tantric sacrificial rite of liberation can also be read as a critique of sacrificial violence.
It is significant, in this analysis, that both Girard's theory and Buddhism place desire at the root of their models. Just as the world of objects, in which our desires are invested, cannot satisfy, neither is there any enduring self that can serve as the subject that would enjoy them. Anatta teaches that the self is a construct that is nothing but a constant flow of impersonal events. The only difference between this and the process theology of Alfred North Whitehead is the denial of God's subjectivity in the Heraclitean flux.
Whitehead aside, there are structural parallels between Buddhism and mimetic theory, but the authors are not aware of any statement within Buddhism that would explicitly identify the root of enmity as mimicry. Envy, however, is another matter. Of particular interest is the mudita, a direct antidote to the envy that the successes of others commonly inflames. The envy-dissipating practice of mudita is to be cultivated and, on this point, Buddhism shares insight with Girard. It is an attestation to the resilience of the mimetic impulse and its universality in human nature. A further parallel is found when enmity is grounded in double trouble of desire and ignorance.
The authors tackle common misperceptions of Buddhism—apparently shared by Girard himself—such as the view of Buddhism as a "world-escapist" religion. Buddhism, they point out, has always had a pragmatic orientation and, despite some of its doctrines, is deeply concerned with human social relations. For example, at the heart of many Buddhist critiques of violence lies a fervent rejection of sacrificial practices that involve violence, and this rejection cannot be reduced to the arena of individualized religious practices alone. 
This becomes particularly clear in the tantric liberation rite Dalton and von Rospatt introduce to engage Girard's notions of sacrifice and scapegoating. Both of these are built on, and subsequent to, mimetic desire. Certainly, they shape the individual and his desires, but the sacrificial framework functions also to structure societies at large.
Buddhists have occasionally taken the ritual instructions of the liberation rite associated with the Rudra myth quite literally, as in the 1997 ritual killing of the monk Geshe Lobsang Gyatso. Elements that lend themselves to a Girardian reading here are, foremost, that the victim is deemed criminally guilty of offenses so vague they are suited to annihilate whomever the collective chooses. In Girard's terms, the victim is thought to merit his punishment, as a cover for the community that somehow does not notice the purely mimetic and mechanical nature of their religious experience. But this is only half of the story. At the same time the liberation rite also includes the critique of sacrifice and reveals the wrongs of sacrificial violence. 
The authors argue that the Mahayana both contradicts Girard's description of Buddhism and brings Buddhism closer to mimetic ideals. The Mahayana bodhisattva, Girard's Christ, is key in that he is deeply caught up in compassionate self-sacrifice. The narratives of the bodhisattva's self-sacrifice take on a ritual form in the Tibetan practice of "cutting," wherein the mediator imagines himself being cooked and eaten by demons, redolent of Girard's mob, to which the mediator willingly submits. Despite the violence, Dalton and von Rospatt assert that these are acts of love. Their violence is what makes cutting such a revolutionary act of compassion. Through self-sacrifice, violence becomes the opposite of what we might normally expect: absolute love. The logic is that the more excruciating and bloody the act, the more compassionate the gift. As the authors point out, the disjunction between the violence and the bodhisattva's compassionate intention is both utterly terrifying and somehow beautiful.
According to Dalton and von Rospaat this is not strictly an instance of blood sacrifice in line with Girard's model. It is instead a ritual of self-sacrifice and, from this perspective, it seeks less to scapegoat and punish the "sacrificial victim," and more to liberate him from the binds of karma and desire. However, as the authors note, this and other rare cases of "compassionate killing" are the exception to the rule, which is the categorical rejection, in Buddhism, of any form of violence, and the extension of this prohibition to sacrificial acts.
The authors go on to argue that the relation of killer to killed turns the tables on sacrificial violence and serves to cast the killing in an entirely different light than the usual sacrificial killings theorized by Girard. Even though the ritual and the mythological narrative do not eliminate sacrificial violence, they reinterpret and transform it into an altruistic act of compassion, through a paradoxical mechanism of karmic reversal. On the surface, the liberation rite looks like a sacrifice, but at a deeper level, the Christ-like bodhisattva, by involving himself in killing, is sacrificing his own karmic well-being to save another.
Significantly, for the question of the universality of mimetic theory, Dalton and von Rospatt suggest that a renunciation of sacrificial violence can and did also happen outside of (modern) societies rooted in Christianity. This is at odds with Girard's view that these cultures, and the modern world that sprung from them, are unique in having evolved beyond the sacrificial framework.
Noel Sheth's essay offers some confirmations of Girard's thesis, and some nuance in the context of Hinduism. He observes that, in a theme deeply encoded in the Brahmanas—violent rivalries between deities and demons—what provokes the quarrels is mimesis. In Sheth's reading, the conflict is resolved by sacrifice (thankfully always in favor of the deities), but, inevitably, there are new desires, renewed rivalries, and more sacrifices. 
Sheth raises some questions about the universal applicability of Girard's theory to Hinduism as a whole, where we encounter an expanded meaning of sacrifice beyond ritual to include social concerns and obligations. The intention of sacrifice at this point is altruistic and spiritual. But there is also the interiorization of sacrifice, revealing a deep Hindu interest in and attention to knowledge of the interior self. 
External deities and sacrifices gradually become unnecessary as the focus, in certain Brahmanic texts, shifts from the external universe to the inner world of the human being. There is some similarity with Buddhism in that Vedic sacrifices, Sheth argues, were meant for individual benefits, and the sacrifices of devotional Bhakti Hinduism are offered for the welfare of the world or good of the whole local community, not personal gain. So, we have the personal-political functional continuum of mimetic theory again. Sheth concludes that although Girard's theory of sacrifice is applicable to certain Vedic sacrifices, it does not seem to be universally applicable to all Vedic sacrifices. Later developments become problematic for Girard in that the practice of sacrifice in Hinduism does not always involve violence as mimetic theory understands it.
In turning to a tradition which Hindus have been encountering for centuries, we have Rüdiger Lohlker's point that Islam today is much less an archaic religion than a truly globalist view of conflict in which jihadi Islam pursues a way to save not only Muslims but all humankind. Islam, in other words, is an humanitarian missionary religion produced by and for a globalized world. Furthermore, ongoing processes of change in Muslim societies destabilize assumptions that Muslims are solely focused on martyrdom. The more complicated situation requires a focused analysis on the relation to violence and the Islamic fiqh, which Lohlker translates as man-made reasoning about what Allah may have intended and the application of Allah's will by way of jihad throughout the world.  
The current religious interpretation of jihad, as the practice of violently fighting enemies that are understood as anti-Islamic forces is, according to Lohlker, influenced by Muslim jurisprudence throughout history that sought to justify and enlarge jihad. But these views should more realistically be looked on as "isolated ideological memes," available for recombination and deployed at the whim of militants determined to ignore the complex structure of older scholarly discourse. It is true that Sharia law developed in a context of expanding lawful and out-lawful frontier societies, and, as the dynamics of expansion withered at end of the 19th century, various doctrines of jihad were elaborated. Largely lacking, according to Lohlker, is any evidence that jihad was preeminent over other duties. Apart from one or two bleeding edge communities, other duties were much more valued. It turns out that the law of Muslim communities is a very complex phenomenon. 
Perhaps the more salient rivalries were not those between Islam and Judaism or Christianity, but that between Islam as an emerging religion in the Arabian Peninsula and other pagan religions. Lohlker wants this possiblity to be recognized when the Qur'an is read as a document reflecting on and debating with other religions. The text should not be taken as proof of a permanent or ongoing antagonism with other Western traditions. The early Muslims had other fish to fry.
Alright, but how are we to understand the difference between the older Islamic law and contemporary jihadi usage of Sharia? The fragmentary structure of Hadith literature facilitates a neutral reading of the traditions from the prophet, thus making it possible to legitimize the use of violence. But today jihad is seen as the one and only marker of Muslim identity, a pre-eminence it never enjoyed before. This change can be understood if we accept that Jihadism is really a part of modernity.
The legitimization of violence, in any case, is only a part of the picture. Of equal concern to Lohlker is the emergence of a counter-ideology based on a thorough understanding of the traditions of Islamic scholarship on jihad, thus delegitimizing contemporary jihadist thought. He looks to "the classical and contemporary doctrines of Islamic theology" to find ways out of the violence. To this end, Lohkler frames the Qur'an as a text of late antiquity that hints at an ambivalence within early Islamic folk communities concerning sacrifice. To many of them, sacrificial rituals continued the ancient pagan sacrifices performed during the pre-Islamic pilgrimages to Mecca; they were a problem. The Qur'an offers a kind of demythologizing of this archaic sacrifice because we find verses explicitly negating sacrifice. Sacrifice as such is transformed into an act of fearing god; it is piety that is enforced, instead of sacrifice. 
So, is there really a Qur'anic idea of martyrdom? To put it simply: no. Qur'anic verses, when talking about violent death, do not see such a death as a witness to anything, not even the truth of Allah. Lohlker concludes by inviting us to consider ways of contemporary Islamic thinking that confront the "martyrological turn." In the story of Cain and Abel, for instance. Abel is the better of the two sons because he did not stretch out his hand to kill Cain. Islamic interpretations of this story show a willingness to break with "the mimetic contagion." 
6. Neuralgic sensitivities in mimetic theory
How does Girard reckon with the persistently negative connotations and experiences of sacrifice? From the perspective of interreligious dialogue, what value do his varying deployments of the concept of "sacrifice" possess? How honest can an evaluation of Islam be when mimetic theory is conditioned by Girard's anxiety regarding Muslims and violence? 
Richard Schenk returns to the fascinating theme of psychological self-insight and critique: mimetic theory in a sort of therapy mode. His hope is that aspects of our own familiar tradition can, under certain conditions, come into view as strange and beguiling. We see them again for the first time, as G. K. Chesterton might have put it. This astonishment leads to reflexive critical enquiry, and religions should be judged "in no small part by their capacity for self-critique."
Girard's claim that the Jewish-Christian Bible reveals sacrificial structures as wholly negative and best understood as "false religions" and "myths" has a parallel in a salvific-historical schematic prominent in ancient and medieval Christian theology. Schenk uses this schematic as a way of mapping Girard's trajectory in his treatment of biblical versus non-biblical religions. Augustine, Hugh of St. Victor, and the 13thcentury Dominican Robert Kilwardby figure prominently in this section of Schenk's analysis.
Turning to the work of Bernhard Waldenfels, Schenk points us toward the vicious tendency that confronts any world religion: either the minimization or the maximization of differences within and without. This helps Schenk to profile Girard's acknowledgement of some limited good in the sacrifices of non-Christian religions, contrary to his earlier framing of "false religions," and asks, Is this perhaps the result of Girard's perception of this strange reality in Christianity itself?
What is new in Girard's later work, according to Schenk, is a willingness to name "sacrifice" as the cost of discipleship. Any lack of clarity on the similarities between archaic sacrifice and the death of Christ, which might lead to a reluctance to use sacrificial imagery to understand the Passion, would come at too high a price: "It was not in order to play the game of his enemies that he gave himself up to be sacrificed, but in order to put an end to sacrifice."
Schenk makes a theologically subtle point in noting the continuity, in Girard, of the later sense of sacrifice with the earlier one regarding the abiding negativity of sacrifice. In Schenk's view Girard never loses grip on the need to maintain a sensitivity for the destructive, anti-divine dimensions of basic sacrificial mechanisms. In his later work, Girard is keen to keep alive our sense of the negativity implied by even the metaphorical recollection of sacrifice. He is critical of the attempt to abstract from sacrifice a pattern of gift and counter-gift that would focus exclusively on positive aspects. Sacrifice is never an unqualified good. In the end, Girard's acknowledgement of the "strange presence" within Christianity of a "sacrifice both necessary and negative" opens his thought to a greater recognition of non-Christian religions, allowing them a similar access, at times even a competitive access, to a familiarly alien reality in our lives.
Nikolaus Wandinger sketches the development of the concept of sacrifice in Girard's thinking by way of dialogue with Raymund Schwager.  He reflects on this conversation in light of Bernard Lonergan's theological method, showing that we are dealing with a process described by Lonergan as "religious conversion." 
In summarizing Girard's concept of sacrifice, Wandinger begins with the idea that Girard sees a clear divide between myths and the Bible. The mythic scapegoat mechanism is hidden, with God on the side of the persecutors, and the victim is guilty. In the Biblical perspective, God is with the victim, recognized as innocent. In an effect redolent of the Buddhist mudita, this unveils the scapegoat mechanism, rendering it ineffective. Where myths endorse sacrifice, the Bible criticizes. At this stage of his development, Girard is making a sharp distinction between sacrificial behavior and a willingness to give up something freely out of love. This willingness excludes the possibility of calling the act a sacrifice.
The main thrust of Schwager's concern, according to Wandinger, is that we find in the New Testament the Epistle to the Hebrews, wherein sacrificial vocabulary is not the same as sacrificial thinking. Is Girard scapegoating the Epistle to the Hebrews? Girard's response is to emphasize the strong distinction between the Gospel perspective and the persecutor perspective. Admittedly this stance might be too rigid. Despite the gulf there is also a continuity between all religions. Using this same term, sacrifice, for two different types of conduct suggests a paradoxical unity of the religions of the world.
In his Jesus in the Drama of Salvation, Schwager sees the Old Testament as ambiguous with respect to sacrifice. For example, there is a strong critique of sacrifice in the prophets and the psalms (e. g. Ps. 40:7-9). In dialogue with Schwager on this point, Girard concludes that opposition between a Christian and an archaic sacrifice is the difference between sacrificing oneself (not neurotic, not masochistic) and sacrificing another. Girard finally retracts his earlier criticisms of the Epistle to the Hebrews. So, analyses of sacrifice—an anthropological theme common to the religions of the world—need to be cautious about a masochistic interpretation of self-giving sacrificing: "On the one hand, sacrifice as murder, on the other hand sacrifice as the readiness to die in order not to participate in sacrifice as murder. These two forms are radically opposed to one another, and yet they are inseparable. There is no non-sacrificial space in between, from which everything could be described from a neutral standpoint."
What we witness in the discussion of sacrifice by Girard and Schwager is a transformation of the archaic concept of sacrifice into the Christian understanding. For Wandinger, this process is one of conversion in Lonergan's sense: intellectual, moral, and religious. Taking up the significance of religious conversion (Lonergan) for interreligious dialogue, Wandinger sees Girard's developed concept of sacrifice as a point of orientation for interreligious dialogue. There could be criteria as to how "advanced" a religious tradition is on the path from archaic sacrifice to the sacrifice of free, self-giving love. This need not be construed as supersessionist because the Judeo-Christian tradition has only achieved a non-sacrificial standpoint after much struggle involving many relapses into an archaic viewpoint. 
For Christians, Christ is the epitome of developed, self-giving sacrifice. For others this can be suspended, and Jesus of Nazareth taken as one example of what humanity is capable of, and then one can examine one's own tradition to see whether this paradigm can be found. According to Wandinger, the sacrifice of free self-giving is not the "Christian" type of sacrifice, but the type of sacrifice consistent with a nonviolent God. Here Lonergan's process of conversion is needed within each tradition. There is a reflexivity at work here. The point is not to convert anyone to Christianity, but to experience conversion within one's own tradition, arriving at the startling distinction between non-sacrificial (authentic) Christianity and sacrificial (inauthentic) Christianity. Wandinger concludes that nothing rules out a similarly structured process from occurring within any other tradition. This intra-religious conversion might even be facilitated by dialogue with another tradition.
Adam Ericksen takes issue with Girard's provocative contention that Islam engenders a return to the archaic sacred. Girard's tendency to see violence as endemic to Islam in a way that it is not to the West is problematic and oversimplifies matters. The question that mimetic theory helps us focus on ought to be whether or not Islam contains within it the necessary elements to critique that violence. Ericksen argues that it does, that Islam is itself a form of critique of archaic religion. Islam's fundamental theological concept, known as tawhid, critiques both archaic religion's ambivalent gods and its evolution into the indifferent high God of pre-Islamic henotheism. It refers to the oneness of God, "the interior unity of the deity, that in God all the attributes… are in some sense one." For God to have paradoxical effects or conflicting wills would break God's tawhid. 
Ericksen seems to give Girard the benefit of the doubt when he credits him with the observation that the relationship between Islam and violence ought to be understood "without any presuppositions and [by] using all the resources available from the study of Islam." He notes with approval Girard's assertion, "Indeed the work to be done is immense." But for Ericksen it matters where one starts on the question of Islam and violence: Violence in the Qur'an? Muhammad's violence in Medina? Or the violence found throughout Islamic history because the whole tradition is tainted? How honest, Ericksen asks, can our assessments be if they are filtered through Girard's anxiety about Islam: "Does this blind us to new discoveries? Does it condemn us to find exactly what we predicted we would find?" Ericksen concludes that Girard's theory is of limited use unless it becomes part of an intra-community dialogue of Muslim scholars and proceeds from a willingness to learn from and be influenced by another tradition and its adherents.
Conclusion
It must be said that there is much in these remarkable essays aimed at individual and social healing, much that acknowledges thick boundaries between traditions and the concomitant need for careful definitions. There are also points at which mimetic theory is stretched like a canvas over the framing of new ideas. The respectful, irenic tone is admirably optimistic (and, I would suggest, contagious), but in reading this absorbing anthology, one gradually arrives at the sense that mimetic theory originates in grief. One closes the book with the sense that Girard's work is situated in deep, humble, sustained, and often painful observations about the human capacity for violence. We are on broken middle ground here, navigating currents of meaning flowing through our traditions bringing pain, awe, and beauty. Some of this might sound familiar but, truthfully, much of it is unknown, and we make our attempts to rein it in by naming the unnamable. Each of the twenty-one contributions is based on a talk given at a COV&R conference in spring 2011. Wolfgang Palaver and Richard Schenk have done yeoman's work in wrestling these into a coherent, interpretive whole, with the result being the Girardian critical torque on full display.
The Ties that Bound
Joel Hodge
Australian Catholic University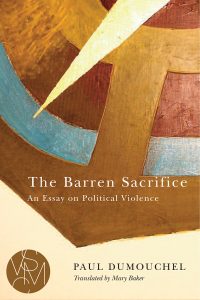 Paul Dumouchel, The Barren Sacrifice: An Essay on Political Violence, Studies in Violence, Mimesis, and Culture, East Lansing: Michigan State University Press, 2015. Translated from the French Le sacrifice inutile: Essai sur violence politique, Flammarion/ARM, 2011, by Mary Baker. 242 pages.
Paul Dumouchel's The Barren Sacrifice provides a rich and insightful analysis of human societies, their changes over time, and the development of the modern state and political violence. The richness of this book is built on a sophisticated engagement with and application of mimetic theory, which is integrated with important studies as well as historical and philosophical works. It is an important contribution to the "mimetic history" project that René Girard called for.
Dumouchel's "essay on political violence" (the subtitle) challenges the notion that the state is a neutral "protector." The state claims a monopoly of physical violence in order to protect its citizens from external enemies. Rather than a supernatural justification, the state is said to rely on "rational" and "secular" justification. Yet, as Dumouchel points out, states politically legitimise themselves because they possess the means to do so, and in doing so, define what is legitimate and illegitimate violence. Importantly, Dumouchel demonstrates that the state defines cultural difference, which the sacred had done for archaic societies. The state has appropriated the role and function of the sacred (who as the victim-god regulated violence through ritual and prohibition).
Dumouchel shows how the modern state's monopoly on violence is founded on the disintegration of the sacred. Thus, rather than "illusory" transcendent justifications, the state claims to be immanently-based. This "immanent" claim hides the transcendent nature of the state and provides the foundation for reason itself. Dumouchel argues that it is not rational actors who form the state, but rather, it is the state—founded on a new form of difference that regulates violence—that defines reason. Reason is "violence's Other" (p. xvii) that is reliant on the monopolisation and stabilisation of violence. Once this monopoly is lost, so are reason's claims to control and limit violence. When states disintegrate, ever-greater violence is seen to be more and more reasonable by actors, as the logic of desire and victory predominate.
Dumouchel's analysis is particularly fascinating when he examines instances of political violence. The examples from Cambodia are particularly interesting (and terrible) as they show how the state turns on its own and eats itself from within when its political violence becomes total. Dumouchel shows how groups vie for political influence in totalitarian regimes where the only value is political power and violence. Rivalry over power means control over the means of violence. He notes two particular forms of violence in these circumstances: the way violence is passed down the social hierarchy as the victimisation of those who are weaker becomes an outlet for the violence of those higher; and the way localised disputes make use of political violence to satisfy mimetic desires, rivalries, and resentments.
Dumouchel also shows how indifference has become a feature of violence in modernity. Because violence has become less effective with the undermining of scapegoating, unanimity is more difficult to achieve. However, the undermining of scapegoating does not necessarily translate into advocacy for the victimised. Instead, indifference can become pervasive in the face of others being victimised, particularly in large systems or groups where anonymity is more common and charity has failed to be fully appropriated by the populace.
Dumouchel further analyses the way human groups have formed solidarity amongst themselves and how these forms of solidarity have been displaced and changed. He fleshes out the mimetic account of solidarity with anthropological and political studies of human groups and through an engaging analysis of modern history, such as the period of European colonisation. He traces how traditional human solidarity was tightly formed over against local enemies, conflict with whom was regulated, and distant enemies, relations with whom were not regulated. Local forms of solidarity were undermined, according to Dumouchel, by the displacement of the violent sacred and the spread of charity. Dumouchel argues that states grew in the place of local solidarity ties, based on a friend-foe distinction. The modern state increasingly promoted forms of social justice and charity amongst citizens, who were treated as "friends," and protected citizens from being victimised in its territory.
In this sense, states, according to Dumouchel, are actually an effort at renouncing sacrificial violence without fully renouncing violence. While regulating violence against citizens, the state pushed its violence outwards against its enemies/foes, and occasionally internally, against criminals or traitors. Yet, with the moralisation of war, and as the space outside of Europe for warfare against one's enemies shrunk, warfare as an institution became unstable. In this instability, the state could not rationally regulate violence, but became the vehicle for wars of total victory and extermination against external and internal enemies, culminating in World War II and the Shoah. Complementary to Dumouchel's analysis (but which he doesn't mention) is Girard's own identification of the dangerous growth of internal mediation in modernity, which could not be regulated by the sacred or the state.
One area I have reservations about, though, is Dumouchel's analysis in Chapter 5, "Indifference and Charity." Dumouchel argues that the new norms that were introduced with the growth of charity, particularly in European societies, led to the breakdown of ties of traditional solidarity. Much of his analysis is concerned with the efforts to create new forms of social bonds in the wake of these changes. In undertaking this analysis, he argues that the actions of agents, rather than their beliefs, are key for understanding modern social bonds. Dumouchel claims that the practice of charity had a deleterious effect on traditional social ties and transformed them, rather than belief in the innocence of the victim. He argues that charity gave the opportunity to people to ignore traditional social ties that were based on exclusive obligations, violence, and rivalry. While charity could have a positive benefit, Dumouchel claims that it also allowed people to become indifferent to others, and for the state and systems of exchange to replace traditional social bonds.
While I see much of value in Dumouchel's analysis and I agree that it is important to focus on the actions of agents, I believe there are some gaps in Dumouchel's discussion of charity and its connection to indifference, belief, and religious and social networks. Firstly, there are different types of indifference that Dumouchel discusses with relation to charity, but which are not clearly distinguished: the indifference to traditional solidarity ties, and the indifference that comes with implicitly rejecting the call of charity. It is important to distinguish these because, while they can be connected, the former can have different causes, such as the increasing ineffectiveness of scapegoating rituals.
Furthermore, it is not clear to me from Dumouchel's analysis that charity itself is responsible for indifference. While I accept that the choice for charity opens the possibility to an alternative (indifference or rejection), it is the failure of people to act and live charitably, contradicting their own tradition, that is the fundamental problem. For example, in Dumouchel's analysis of the parable of the Good Samaritan (Luke 10:25-37), he claims that traditional obligations are ignored by all three passers-by, leading to the indifference of the Levite and priest. Yet, these two are not just indifferent to their fellow Israelite; they fear ritual contamination (of which the false sacred disapproves). They reject the universal implications of their own tradition to care for neighbour in favour of worship. In doing this, they implicitly reject the beliefs that come with "love of neighbour"—such as the nonviolence of God, the dignity of the person, and the protection of victims. Jesus' parable is pointing to how one understands God and one's own tradition (the Jewish tradition) and how one lives it out in its best and worst manifestations. In this case, the Samaritan lived out the Jewish tradition better than the "bad Israelites." For the Levite and priest, the call of tradition and charity were ignored, which is what I think Dumouchel is usually identifying with reference to indifference.
Secondly, Dumouchel treats charity (and forgiveness) as an abstract entity, which allows for a particular type of analysis of how charity effects social ties. Yet, this analysis does not seem to take sufficient account of the way charity is embodied and lived out. Charity is not something that just spreads between humans, but is embodied by people and groups who are often persecuted for it. Charity is not easily accepted as a universal and preferred norm, as the history of Christianity and missionary activity show. Groups often welcome Christ's teaching or example of charity with violence and disdain. Here is where charity and victimhood go together (for which Dumouchel's analysis does not account): one must be willing to risk one's life for charity, and do so with confidence in one's innocence as a victim. This belief is built on confidence in the innocence of Christ and of his martyrs, who have been innocently killed as they undertake charitable and forgiving acts. While charity doesn't always require a full consciousness of the innocent victim, it does require a frame of reference that privileges the innocence of the victim as what charity can look like under certain conditions. The martyrs are the exemplars who embody both the innocence and self-giving of the victim. Without this sensibility (or belief), charity is divorced from the reality of social life, which is dominated by violence, distorted desire, and sin (as Girard has extensively shown).
Thirdly, while I agree with Dumouchel that charity is a form of desire that leads to universal care, it is a form of desire that requires social support as well as a decision and a commitment. It is a unique form of desire because, as Dumouchel points out, it involves a free choice. In making this choice, one needs to believe in charity as the preferred way of living and desiring—precisely in its aim to enhance the good of the other. To foster this kind of faith requires a framework—intellectually and socially—that privileges charity and embodies it, particularly in the face of violent opposition.
For the Christianised West (the context that Dumouchel primarily refers to), the embodiment of its tradition of charity was located in a person, Jesus, and the social body that he commissioned, the Church. Though the Church is clearly flawed in its membership, it has embodied, in its saints and Eucharistic theology, the solidarity of charity around Christ as victim. In the ancient world and the Middle Ages, Christian forms of social life thrived—over-laying previous social ties with new and intense local ties of Christian solidarity, resulting in stronger family bonds (and obligations), hospitals, schools, and care for the poor. Christian solidarity ties (built around charitable love) did not completely dissolve solidarity ties (as Dumouchel acknowledges), but actually involved the re-evaluation of rights and duties, with socially-cultivated virtue at their centre. This led to the breakdown of violent solidarity ties and the affirmation of positive social ties, such as between family members whose relationships come to be structured around the right and duties of love, not just fear of punishment or obligation. The shift away from these new social norms occurred when Christian Europe was fractured and undermined by church corruption and schisms. Christian schisms in the 16th century and the growth of the centralised state led to the distortions that Dumouchel has identified with breakdown of solidarity ties.
Notwithstanding my qualifications, this book is one of the best applications of mimetic theory to modern political history and to understanding political violence and the state. More broadly, it is indispensable for those who want an incisive and systematic analysis of modernity.
Scapegoaters Anonymous
Curtis Gruenler
Hope College
Emily Swan and Ken Wilson, Solus Jesus: A Theology of Resistance. Canton, MI: Read the Spirit, 2018. Pages 383.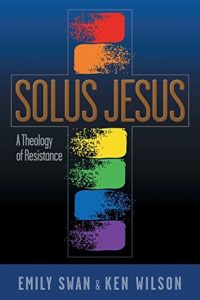 Solus Jesus addresses, first and foremost, members of Christian traditions committed to the Reformation principle of sola Scriptura, the Bible alone as the source of final authority—and especially those who have found this principle inadequate to resolve controversies such as LGBTQ+ inclusion. Its alternative, focused on experience of the living Jesus as "our  rabbi still," will be welcome to a broader audience because of how the authors, co-pastors of Blue Ocean Faith Ann Arbor, answer "the inevitable question, 'Which Jesus?'" Their answer, "the God of victims—Jesus revealed through the lens of scapegoat theory," puts the thought of René Girard at the center of their "theology of resistance." From this center, and drawing on years of pastoral and missionary experience as well as wide reading, Swan and Wilson develop a compelling vision of Christian life and community that combines Girardian anthropological and scriptural insights with a confident expectation of the work of the Holy Spirit abroad in the world.
They present this vision in three parts: first, the shift from sola Scriptura to solus Jesus; second, an introduction to mimetic theory and its reading of Scripture; and third, proposals for "a new way forward" in theology, church life, spiritual practice, and relations with adherents of other religions. Aside from an introduction and afterword, the chapters are written by either Swan or Wilson, which allows each, in their refreshingly distinctive voices, to bear witness to his or her own experience and thus illustrate the approach to authority they propose.
Sola Scriptura has proven to be an "overreach," they argue in Part One, not just by failing to resolve controversial issues but, more important, in its alignment with the power of educated elites. For Luther and other Reformers, it was a way to oppose abuses of institutional authority. It then became allied with the rise of scientific disenchantment. There is room to expand here, I would suggest, on the alignment of sola Scriptura with the era of print and its standards of demonstration and certainty—standards that are losing authority in the "post-truth" era of electronic media. This would only add urgency to their understanding of truth as personal, relational, non-rivalrous, and oriented toward confidence rather than certainty.
Building especially on the work of Methodist theologian William Abraham, Swan and Wilson propose, instead of taking Scripture as a criterion of truth, seeing it as a means of grace along with four others that bear on authority: community, experience, practices, and reason. Experience, the challenging addition (at least for evangelical Protestants), includes for them not just mystical, subjective, spiritual experience, but empirical, scientific knowledge, the wisdom of "life experience," and, crucially, the experience of the oppressed. They find in the origins of the Pentecostal movement a promising example of the power of openness to spiritual experience among the marginalized.
The authors' own experiential testimony makes part 2's introduction to Girard especially inviting and insightful. Swan takes the lead here by narrating, first, her discovery of blessing as a queer woman and minister, a position and perspective from which she finds resonance with African American theologians and with Dietrich Bonhoeffer, a favorite of evangelical Protestants who recent scholarship suggests might have been gay. She tells how finding Girard at first answered a long-felt need for a better story about Christ's suffering, but then became a matter of survival when coming out to the congregation where she served as an associate pastor led to her dismissal. This makes a compelling set-up for a brief, lucid overview of how Girard reads the Bible. Her pastoral and practical chapter on "the path of non-rivalry" then sorts out the distinction between forgiveness and reconciliation with help from Desmond Tutu and the experience of South Africa's Truth and Reconciliation Commission.
Wilson rounds out Part Two with a Girardian understanding of conversion focused on Peter and Paul as the founding members of "Scapegoaters Anonymous." He frames this with his own story of advocating for full LGBTQ+ inclusion and being fired as pastor of the same church as Swan for taking her side. The result invites readers to share Wilson's experience, guided by the apostolic models, of discovering intimacy with the God of victims in place of the false intimacy of scapegoaters. A brief discussion of what conversion looks like for victims of scapegoating—accepting, not their guilt, but their innocence—underscores the importance of experiencing the Holy Spirit as Paraclete, Comforter, in the book's larger question of authority and truth.
Not until Swan and Wilson have shown how a Girardian hermeneutic is central to their understanding of access to Jesus as living rabbi do they confront, in the first chapter of Part Three, its implications for atonement theology. Even then, their emphasis is not on how it stacks up against other views but rather on what the exposure of scapegoating opens up: an escape from religion centered on morality. Here Wilson finds that Girard can be seen to confirm Bonhoeffer's intuitions about the need for a "religionless Christianity." Swan and Wilson do not pretend to prescribe what this would look like. They conclude their "way forward" with suggestions for practicing "a spirituality of resistance," drawn mostly from African-American, Pentecostal, and monastic traditions, and for non-rivalrous, non-judgmental relations with other world religions, where Swan draws on her experience as a missionary in China at the edge of the Tibetan Plateau.
Solus Jesus is a practical book, accessible to a lay audience but with plenty of footnotes for those interested in digging deeper and finding more academic treatments of the issues it raises. Its eclectic range of sources is another of its strengths. As the authors note in their conclusion, "solus Jesus…is not theologically centered in any existing tradition." It is a fresh, ecumenically open start toward reimagining Christianity around a Girardian reading of Scripture. They speculate that, for reasons of doctrine and polity, Episcopalian and Congregational traditions might be most hospitable to such a vision.
For academic Girardians, the book's biggest challenge might also be its biggest strength: its thoughtful, persuasive invitation to the side of experiencing Jesus that is more personal, subjective, and mystical. I almost said supernatural, but this would be to buy into the sharp distinction between natural and supernatural that is a modern disease closely connected to the appeal of sola Scriptura. Swan and Wilson's category of experience as a means of grace includes both natural and supernatural. Just as the exposure of scapegoating made way for modern science to displace mythical explanations of natural phenomena, so, as Solus Jesus helps us see, it also makes way for authentic spiritual experience to displace the dangerous, mythologically driven fantasies of the spiritual that travel under such labels as "spiritual warfare." The principle of non-rivalry extends even to the relation between natural and supernatural. Indeed, this is one of the lessons of the Incarnation. The summons to the truth that is intimacy with the God of victims comes in every dimension of our experience. What we call mimetic theory is the scientific, natural side of an insight that also has a spiritual practice. Cynthia Haven's biography of Girard shows that there was a deep experience of continual conversion that accompanied his discovery. Swan and Wilson help us further articulate and explore that practice in the context of the larger movement of the Spirit in our time.
---
Film Review

Genres at War with Themselves
Luke Nelson
M.F.A. USC School of Cinema
Three Billboards outside Ebbing, Missouri, directed by Martin McDonagh, 2017. Hostiles, directed by Scott Cooper, 2017.
From the first day of film school, I was taught the most important lesson is to inspire empathy in the audience. Later that year, 9-11 happened. I began to question the "empathy industry." Like many in that time, I reached for Noam Chomsky, and then for Slavoj Zizek, two masters of the narrative duel. A few years later, a good friend recommended René Girard. Here was not only a revolutionary thinker, but in COV&R, a group of academics and writers devoted to the interdisciplinary callings of mimetic theory. Like many of us in COV&R, I am sure, I was enthralled with Girard's words in the introduction to Battling to the End, "They cannot do without a cruel god…. They have no sense of humor." I preferred to read "they" as "we" in the movie audience.
With some encouragement from friends, I am sharing two movie reviews with COV&R that are a year too late, but which also serve as proposals for what a mimetic movie review can be. I think a mimetic review should maintain the same length and readability of a movie review, but should diverge from shallow marketing in order to boldly discuss the third act. That sacrificial space of "what happens," with all its emotion and blood, must confront a creativity of truth-telling against the status quo of violence, yet remain immediately readable. If "spoilers" are highly valued, then a mimetic review merely (radically?) seeks an audience in the aftermath of the movie.
Each genre, within the rules of its game, represents an escalation to an extreme. Maybe a mimetic movie review should be a response to the third act—a punchline that confronts the games of so many cruel gods with a deeper sense of humor.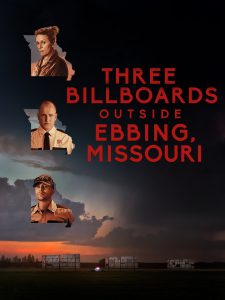 Three Billboards outside Ebbing, Missouri is not an ideal movie because the tone challenges genre convention, it follows the arcs of two characters rather than one, and it gets kind of allegorical about violence. An authenticity of human experience is usually the sacrifice for these oversteps. But writer-director Martin McDonagh strikes a shaky balance between the small-town familiarity of neighbors lifting each other up in suffering, and a prankster vengeance that escalates to permanent disfigurement. The shaky balance itself, like a fiddler on a roof, is authentic to a small town. The movie has stars, but the story dares to digress into the sociality of the community, anywhere ("Ebbing" is fictional). Highly opioniated critics such as Armond White get Three Billboards totally wrong if they use "archetype" dismissively. (To wit, we need more movie critics that fit a culture-critic archetype, like Armond White. But we don't always need more Armond White.)
Three Billboards is also a masterful crime story that escalates to implicate everyone and no one. "Raped while dying. And still no arrests? How come Chief Willoughby?" The open-ended result is a fruition of its complex tone. This investigation in criminal grief keeps us laughing, which is the only satisfaction we will get. In a crime thriller, we want more bloody satisfaction, more justice. In a comedy, we want more escape from anxious conflict, more romance.
Would a grieving mother have this much drive to mess with people? Frances McDormand's Oscar-winning Mildred Hayes shows a range only a few people have, and not many directors dare attempt. Knowing a sliver of what is right and crossing an entire world of boundaries to prove it is standard masculine-hero crap. But the best scenes show her pushing her agenda while the men around her break under the scrutiny and strain. A few times, she suddenly turns into a nurturer. The joke is on the men who cave in and can barely do their job. Her son and ex-husband let her know her anger is totally out of line. Yet, it is her momma-bear archetype that is secretly charged with keeping order in the small towns, anywhere.
In a flashback to that fateful day, the last words exchanged between mother and daughter were a kind of mutual warning of the threshold of adulthood and wilderness: young, rebellious women are destined to be victims of violent strangers. The cold nastiness of Mildred's grief comes from a deep guilt, because she echoed these reckless threats of exasperated parenting.
In the middle of the story, Mildred's scapegoat Sheriff Willoughby (Harrelson) ends his life to shield his family from a slow death to pancreatic cancer. People blame Mildred and her billboards. But Willoughby leaves behind Three Letters of Ebbing, Missouri: for his wife, for Mildred, and for his racist deputy, Jason Dixon (Sam Rockwell, also Oscar-winning for best supporting).
As the town's caveman, Dixon looked up to Sheriff Willoughby like a god (despite, nay, because of, Willoughby's constant scolding.) But his letter intends to inspire conversion:
"…And I know you're going to wince when I say this. But what you need to become a detective, is love. Because through love comes calm. And through calm comes thought. And you need thought to detect stuff sometimes, Jason. It's kind of all you need. You definitely don't need a gun. And you definitely don't need hate. Hate never solved nothin'. But calm did. And thought did. Try it…"
The three billboards asked, "Why, god?" but the god only has fatherly advice for the warring parties.
Dixon's gumshoe detective effort against a creep that fits the profile is also a self-sacrificial reconciliation with Mildred, but the DNA gives no match. The hope in nailing the guy that did it turns into a vengeance plot shared between them to kill the guy that didn't do it, because he surely did something, to some girl, somewhere.
This is a stroke of genius in Three Billboards. It is not a breaking of the fourth wall, but the audience's need for that ritualistic third act of violent justice overcomes the two reconciled detectives—overcomes the logic of detective work itself—and returns them to their heroic fantasies as executioners of justice.
Mildred and Dixon quietly check the titillation of the audience before the road trip of blood: they both say slow goodbyes to their sleeping loved ones, as if they know that crossing this final threshold will not bring a glorious Return of the Hero. But the journey cannot be completed in the time we have, and is thrown back into the audience's imagination: on the road, they confess their doubts about killing, and decide to figure it out on the way…
&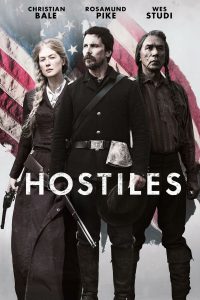 Scott Cooper's and Christian Bale's Hostiles succeeds where the comic allegory of Three Billboards might be seen to "fail," in the sober meditation on race war and the human costs of violence. But Hostiles suffers a near total failure in a meaningless third act, enslaved to the genre rules of shoot-outs.
A fatigue of war within our borders weighs heavily on Hostiles. Since 9-11, the forgotten wars on terrorism and the gun violence in civil society is slowly dragging our nation into a descent of constantly feeling war-torn. Christian Bale's Captain Joe Blocker fought the Indians at Wounded Knee, but due to changing political climate, and President's orders, must escort an old Cheyenne war enemy, Chief Yellowhawk (Wes Studi) and his family into his traditional burial grounds of Montana.
Are there two filmmakers at war in Hostiles? Sparked by the D. H. Lawrence quote at the fade-in, "The essential American soul is hard, isolate, stoic, and a killer. It has never yet melted," the bookends of the movie are intentional in their vicious mirroring of native savagery and then white savagery. But this is a total betrayal of the inner evolution toward mercy and forgiveness. The middle of Hostiles is the Melting of Joe Blocker.
On the journey with their old war skeletons, Blocker's detail meets a new widow (Rosamund Pike) talking to her family of corpses in her burned-out home, victims of a band of Comanche, who will threaten our group again. There is a band of kidnapping and rapist fur-trappers, a military prisoner (Ben Foster) who fought alongside the Lieutenant and his friend Tommy Metz (Rory Cochrane), reminding them of the thin line between doing a military "job" and racist bloodlust. Sometimes the episodes distract with unnecessary violence, but it does not seem to threaten the slower burns of mutual respect that develops between the Cheyenne and the whites, and the confessional mirrors into the bipolar insanity of war offered by Cochrane's depressive and Foster's manic performances.
In an interview with Matthew Lickona of the San Diego Reader, Bale's research for another project in 2005 brought him to a discovery of the military's active taboo on PTSD.  He found the reporting on military suicides in the Army Times to be far better than the conventional media's, so Bale visited a Marine recon team in Camp Pendleton, who responded, "There's no such thing," when asked about PTSD. "What I found was then when you spoke with them as a group, they said it didn't exist, because they do not want to be the one who shows vulnerability that then becomes infectious." Bale's Joe Blocker gruffly dismisses "the melancholia" with the same words to his Sergeant and friend Tommy, after he tells Blocker that the army stripped him of his guns, and he feels like he is "near the end of his sojourn."
But the Western about remembering war trauma forgot itself. How can a narrative so fatigued with war, about a journey to reach burial grounds, suddenly raise their guns for a stand-off over a property dispute? To be fair, the answer might be "empathy" for the Cheyenne tradition, to stand and fight with them. At the same time, the third act seems to have a total ignorance of its own lingering despair in violent conflict.
Bale's Lieutenant Blocker was suddenly not the same man that lived through the first 90% of the story. The hurried falseness of the final shoot-out is infuriating, rising like a cartoonish genre trap from the Montana plains. Precisely at this point is when we miss Cochrane's and Foster's shadowy performances, which deserved more scenes, but fell too soon to the episodic sequencing. Or worse still, we miss a deeper view into the trauma of Chief Yellowhawk and his family.
The trauma of war crimes as spread over the whites and the American Indians is a far more original—yet historically appropriate—canvas for the Western. Maybe no other genre can contain the full insanity of domestic conflicts of "justice" against "monsters" and the rational necessity of forgiveness.
Hostiles is a moody Western that makes us feel more deeply than many that have gone before. But it also reveals that violent content serves the formal haste of genre, trapping both trauma and forgiveness—the longer view of life—in an episodic reality. This life-or-death conflict over the ritual of genre is reason to see Hostiles twice or more.
---
If you have a news item or would like to write a report on an event, please
contact
the editor.
Bulletin 58 – November 2018