Contents
Letter from the President, Martha Reineke
Musings from the Executive Secretary, Niki Wandinger
Editor's Column, Curtis Gruenler
COV&R Sessions at the American Academy of Religion
News from the Raven Foundation
Marie Delcourt, Oedipus; or, The Legend of a Conqueror, reviewed by Sandor Goodhart
Trevor Cribben Merrill, Minor Indignities, reviewed by Grant Kaplan
Daniel DeForest London,Theodicy and Spirituality in the Fourth Gospel: A Girardian Perspective, reviewed by Andrew Marr
Richard Wrangham, The Goodness Paradox: The Strange Relationship Between Virtue and Violence in Human Evolution, reviewed by Christopher Haw
Nicholas A. Christakis, Blueprint: The Evolutionary Origins of a Good Society, reviewed by Curtis Gruenler
---
Letter from the President

Minding Our Bullies and Heroes
Martha Reineke
University of Northern Iowa

During the tumultuous month that has followed the November US election, democracy has been tested in ways not seen here since the Civil War. Yet, as this column went to press, electors were meeting in every state capital, presumably to bring the country closer to actually inaugurating Joe Biden in January in "a peaceful transition of power," a bromide for over a hundred years prior to the 2020 election. Hoping for that conclusion and with the election still weighing on my mind, I offer the following reflections. 
I suggest that when mimetic theorists produce extended analyses of the election they will need to take into account ways candidates Trump and Biden were shaped by their childhoods. Of course, from the perspective of psychoanalysis, all of us owe our adult identities to our childhoods. And psychobiographies of presidents are not new: Lincoln, Jackson, and Nixon are among those who have been profiled. But never has the case for understanding a presidency through attention to a president's childhood been made more powerfully than in the last year. Both Trump and Biden have had their childhoods presented in popular media and in more nuanced commentary as defining their identities and exercising a powerful influence on their modes of presidential leadership, (almost) past and future. 
Trump is presented as a perpetual toddler. Early in his 2016 campaign, before Trump was the Republican candidate, Politico published the first article depicting Trump as a young child: "Donald Trump is a 2-Year-Old." Over the four years of his presidency, images of a toddler with yellow hair and an orange face, sometimes still in diapers, became pervasive in cartoons, protest signs, and graphics in popular media. In the spring of this year, the University of Chicago Press published a culminating, scholarly treatment, The Toddler in Chief by Daniel Drezner. Focusing on tweets, interviews, and articles by cabinet members, advisors to Trump, and Republican Party officials, Drezner amassed and analyzed over 1000 evidentiary claims made by those who worked for Trump explicitly ascribing to him childlike behavior. Trump has increasingly been understood to suffer from major personality disorders traceable to early childhood. His niece, Mary Trump, drew on family history and her doctorate in psychology-psychoanalysis from the well-regarded Derner Institute at Adelphi University to offer a detailed account: Too Much and Never Enough: How My Family Created the World's Most Dangerous Man, some of which I allude to below (see my YouTube review for a fuller discussion).
---
Musings from the Executive Secretary
No Superiority
Niki Wandinger
University of Innsbruck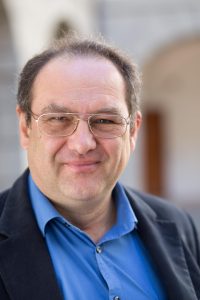 Recently, when reviewing the doctoral thesis of a student of mine, I stumbled across two quotations of René Girard, which form quite a contrast when placed beside each other. They run as follows: 
All of my work has been an effort to show that Christianity is superior and not another mythology…. Violence and scapegoating are always present in the mythological definition of the divine itself.… This revelation of collective violence as a lie is the earmark of Christianity. This is what is unique about Christianity. And this uniqueness is true. ("Ratzinger Is Right. Interview with Nathan Gardels," New Perspective Quarterly 22/3 (2005): 43-48; 46)
And: 
The feeling of superiority…is itself a form of mimetic violence…. To become Christian is, fundamentally, to perceive that it isn't just others who have scapegoats. And note that the two greatest Christians, the founders of the Church, Peter and Paul, were two converted persecutors. Before their conversion, they, too, thought that they didn't have any scapegoats. (When These Things Begin. Conversations with Michel Treguer, East Lansing, MI: Michigan State University Press, 2014; 2)
To be fair, one has to add some of what I omitted from the second quotation: It is the reference to a feeling of superiority "with respect to the past" and not in general that Girard is talking about here. But it made me wonder whether one could or even should generalize that, and what it would mean for the self-understanding of Christianity and of the people working with mimetic theory. I won't be able to treat this in sufficient depth here but I might be able to offer some musings.
Let me start by highlighting an important difference between the two quotations. The first talks about "Christianity," the other about becoming or being a Christian. Read that way, it is clear that persons should beware of feelings of superiority. These are a sign that the people who have them are entangled in mimetic violence. But what could be meaningfully meant by "Christianity"? Certainly it is not historical Christianity. Girard is very clear about the problems that "sacrificial" Christianity caused in the world and how it was an accomplice to or even a perpetrator of mimetic violence. But then, what is meant? Girard talks about the "revelation of collective violence as a lie" as the defining mark, and he sees that as uniquely given in "Christianity". What I find very important here is the word "revelation"; he does not say "knowledge," he speaks of "revelation." 
---
  Editor's Column
From a Mimetic Perspective
Curtis Gruenler
Hope College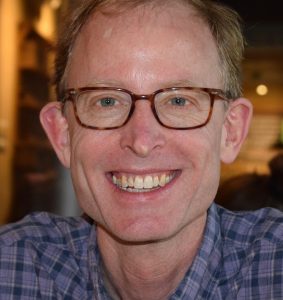 Congratulations to COV&R board member Marinela Blaj on the defense of her doctoral thesis, "Punic Carthage: Mimetic Conflicts and Scapegoating Mechanisms," at Alexandru Ioan Cuza University of Iaşi, the oldest higher education institution in Romania. She writes in the English summary available online, "My hypothesis is that the history of Carthage can confirm the evolution of the mimetic mechanisms and of violence management at an imperial scale and over long periods of time." Because Carthage was so thoroughly destroyed at the end of the Punic wars, sources of its history come from the perspective of its Greek and Roman rivals. Thus her thesis, besides giving the first full account of mimetic theory in Romanian, pioneers a model (with infographics) of applying Girard's work to historiography. Her work suggests how mimetic theory could reshape the study of history in response to the assertion by Mark Sandle and William Van Arragon, in Re-Forming History, that "the real meaning of history is found with the losers, not the winners" (reviewed here).
Teaching during the coronavirus pandemic has been different in ways both predictable and surprising, as I'm sure other members who teach will agree. Most of my classes met in the classroom, and I did not expect how much of an obstacle masks would be to my own sense of connection with students. While they all said they were more engaged in the classroom than online, I appreciated being able to see their faces when we met by videoconference. Could this have something to do with the mirror neuron system? In the classroom, they see me moving around at the front of the class, but I only see them sitting in chairs. Online, my brain resonates with their expressions—while they of course are easily distracted by each other, not to mention whatever else is going on in their rooms and on their screens. 
The pandemic conditions perhaps forced me to work harder to build coherence in my larger courses, rather than letting it emerge from conversation. I've taken to introducing mimetic theory at the beginning of most courses through short readings and videos (the introduction from Cynthia Haven's Evolution of Desire and Girard's "The Myth of Oedipus, the Truth of Joseph" are my current favorites). This semester, for whatever reason, they took to it better than ever in my interdisciplinary humanities course "From Virgil to Dante" and my survey of British Literature from Beowulf to Equiano. Several students were able to use it to write final essays tying together many texts. Not all of these canonical texts are full of mimetic insights in the way that, say, Chaucer and Shakespeare are. Beowulf is more of a text in travail, as Girard says of parts of the Bible. But mimetic theory also empowers us to read for the relational dynamics in any work, something that seems not to come naturally. Students respond first to character and theme, but, as Aristotle pointed out in his Poetics, plot is the most important element of drama, and I would extend this to all of literature in the sense that plot puts characters and ideas in relationship. And mimetic theory especially highlights victimage, and thus integrates with identity-oriented approaches that students are attuned to, from race and postcolonial studies to feminism and queer theory to disability studies and even ecocriticism.
For Advent I am enjoying a reread of Michel Serres's Angels: A Modern Myth, which begins with a figure of Gabriel as a dying homeless man, no doubt reflecting what Serres learned from his great friend Girard. I have found this volume the gentlest introduction to the polymathic thought of Serres, whose death on June 1, 2019, we neglected to note here. He is an essential guide to rethinking the theory and practice of the academic disciplines with mimetic theory as central. I am looking forward to reading last spring's Michel Serres: Figures of Thought by Christopher Watkin, whose website offers a gateway to this challenging thinker.
Publication News
Cambridge University Press has announced a new book by Wolfgang Palaver, Transforming the Sacred into Saintliness: Reflecting on Violence and Religion with René Girard, due out at the turn of the year in its series Elements in Violence and Religion. Anthony Bartlett's new Theology Beyond Metaphysics: Transformative Semiotics of René Girard is just out from Cascade Books.
Michigan State University Press has scheduled two titles for the spring in the series Violence, Mimesis & Culture: Desire and Imitation in International Politics by Jodok Troy and Philosophy's Violent Sacred: Heidegger and Nietzsche through Mimetic Theory by Duane Armitage. Members should also receive the two volumes of Giuseppe Fornari's Dionysus, Christ, and the Death of God through the generous support of Imitatio for this series.
"Positive Mimesis: Education and Mimetic Theory" will be the focus of a special issue of Xiphias Gladius, the journal of the Spanish mimetic theory group. Here is the call for papers. The deadline for submissions is February 15, 2021.
James Alison's essay "The Dangerousness of the Good," on what he calls "the mimetics of shame," felt urgent in one way when it was published on his website just before the U.S. presidential election, but it seems just as important in understanding our predicament now.
It's always encouraging to see applications of mimetic theory in the mainstream press, and this astute reflection on social media by Thomas Chatterton Williams even quotes the explanation of scapegoating from the COV&R website.
---
Forthcoming Events
COV&R ANNUAL MEETING
Update on 2021 COV&R Annual Meeting at Purdue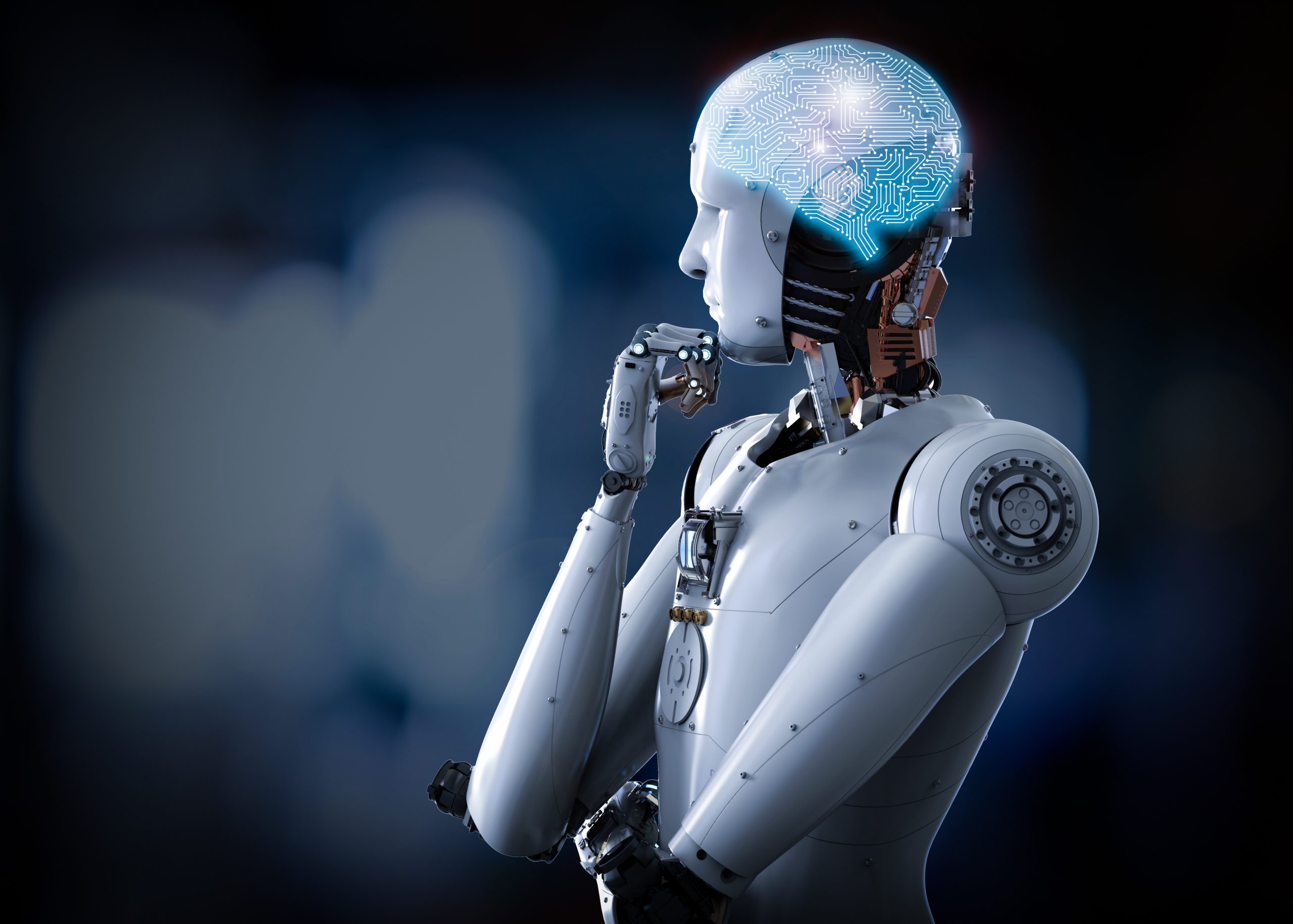 There will be a COV&R Conference in July hosted by Sandor Goodhart and Thomas Ryba! We are exploring hybrid formats at Purdue and online-only formats. A final decision on whether to go all online for the conference will be made around the beginning of February once further clarity about the US vaccination calendar is offered after January 20 by the Biden administration. With the developing sophistication of online conferencing over the past year, we anticipate opportunities for robust engagement and discussion. 
Here are some of the ideas we are exploring. If we go to an all-online conference format, plenaries will be pre-recorded to be watched at times convenient to the participants. Each plenary speaker will also participate in a separate live discussion featuring the speaker, a respondent, and audience discussion. What typically are offered as concurrent sessions will likely be offered as non-current sessions spread over more days in order to maximize attendance and discussion (i.e., Zoom "Hollywood Squares"). Each session will be offered at times inclusive of two of our three time zones (Americas, Europe, Asia/Pacific) with equitable distribution so that participants in each time zone will have a comparable number of opportunities to participate "live" at optimal conference-attending hours. Recordings will enable participants to view sessions they were unable to attend live. Also being explored are creative ideas for engaging each other informally absent in-person social activities. 
Sandy or Tom welcome suggestions from you about features of online conferencing they could incorporate into their plans based on your own positive experiences. In short, one way or another, the COV&R 2021 conference will take place amid the pandemic and explore, in context of the announced theme, the questions that continue to be of interest to all of us—perhaps now more than ever.
---
Conference Reports
COV&R Sessions at the American Academy of Religion
Grant Kaplan
St. Louis University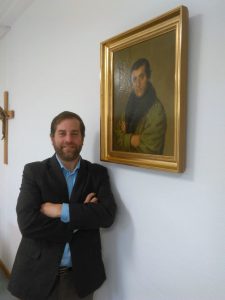 Instead of descending on Boston, the 2020 meeting of the American Academy of Religion and the Society of Biblical Literature met virtually this year. For COV&R, this meant that our two co-sponsored sessions, along with our annual business meeting, took place over Zoom. In all, five papers were given; all were well received and surprisingly well attended.
The 2020 panels were organized around two themes: 1) "Beyond Scapegoats: Marginalized Voices in Conversation with René Girard," and 2) "Mimetic Theory and Christian Spirituality." Some of the presenters were familiar voices like Martha Reineke, who talked about purity and mimetic theory, and James Alison, who presented the range of Girard's comments on homosexuality.
Chelsea King (former Schwager Award winner), a freshly-minted Ph.D. in systematic theology, who is now a lecturer in Catholic Studies at Sacred Heart University in Connecticut, spoke on mimetic theory and feminism. Julia Robinson Moore, meanwhile, spoke on the historical record of lynching in Little Rock, Arkansas, an important site of America's struggle to extend rights to African-Americans.
A newcomer to COV&R circles, Aline Lewis, gave a presentation on mimetic themes in the autobiography of Ignatius of Loyola, the founder of the Society of Jesus.
Attendance at both sessions was strong, given the circumstances, with a peak of 20 attendees for the Wednesday session and 30 for the Thursday session. Grant Kaplan moderated the Thursday panel while Brian Robinette of Boston College moderated the Wednesday panel. Both panels concluded with a robust Q&A, a hallmark of our colloquium. The Thursday session was recorded and COV&R members will be notified when it comes available.
In the business meeting we discussed an open call for papers on themes related to the pandemic, to friendship—especially in light of the most recent papal encyclical that speaks of social friendship—, and to the Eucharist and the theme of contemplation. We also talked about the possibility of having a panel on one of the many books that are in the pipeline in the Studies in Violence, Mimesis, and Culture Series through Michigan State University Press, as well as other recent books on mimetic theory.
The annual meeting of the AAR is normally a time of great joy for me, and this year especially I had been looking forward to returning to my old stomping ground of Boston. At the 2017 meeting in Boston, I fondly recall going to lunch after one of the panels with Andrew and Stephen McKenna, Suzanne and Keith Ross, Randy Rosenberg, and Brian Robinette. We ate and drank and laughed a lot. I hope that I will be able to do the same with as many of you as possible in 2021, perhaps along the River Walk in San Antonio, where next year's meeting will take place November 20-23. The call for papers will go out most likely at the end of January.
---
News from the Raven Foundation
Suzanne and Keith Ross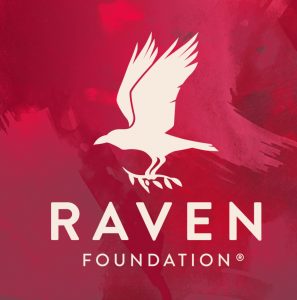 The Mimetic Invitation Videos Launch Party on November 17 brought together 145 people from around the globe. Our goal for the event was to discuss new ways to bring the insights of mimetic theory to a broader audience in fresh, visual ways. If you haven't yet watched the Mimetic Invitation videos or the recordings of the Launch Party, you can find them on the Raven and COV&R websites along with transcripts of the panelists' remarks.
The Raven Foundation is a welcoming community for those who struggle with organized religion but haven't given up on God or a world at peace. We respond to the crisis in American Christianity and reach out to those who are disillusioned with culture wars and violent theologies.
Mimetic theory informs our blogs, videos and podcasts and so our connection to COV&R scholarship is vital to our work. And as a partner organization, we share a focus with COV&R on reaching new audiences for the shift in understanding desire and conflict that mimetic theory makes possible.
COV&R and Raven have our unique missions and our work must continue. But we also have an important story to tell, one that speaks directly to the climate of distrust, partisanship, and scapegoating afflicting our world. This is the story of the impact mimetic theory is having on peacebuilding, conflict resolution, and violence reduction efforts in communities around the globe.
To better tell this story to a broader, global audience, we believe a new entity is needed that can draw on the strengths of organizations like Raven, COV&R, and others, to create a strong platform for communications, fundraising, and training. During the launch party, I introduced unRival: a network for discoveries in nonviolence. unRival remains in its infancy. We are spending time listening to you and others who are applying mimetic insights to help shape our mission and our work. We've had dozens of conversations and will be more fully introducing unRival and its work in 2021.
How can you help? First, complete the survey COV&R members should have received by email. Here is a link. This will give us feedback on the launch event in November. At the same time, it provides an opportunity for you to tell us about people and places where mimetic insights are leading to positive change. We need your stories! So even if you did not attend the event, please fill out the survey.
Second, check out the unRival website and like the unRival Facebook page.
Finally, let us know if you are willing to donate your time. Are you a writer with an interest in sharing stories about nonviolence? Are you skilled in social media or marketing? If you'd like to donate time, please let us know.
All of us at Raven wish you and yours a very happy and healthy holiday season. As we look ahead to 2021, we are excited by the work ahead and look forward to strengthening our bonds as we launch unRival together.
---
Book Reviews
For inquiries about writing a book review or submitting a book for review,
contact the book review editor, Matthew Packer.
---
Oedipus: Legend of a Conqueror
Sandor Goodhart
Purdue University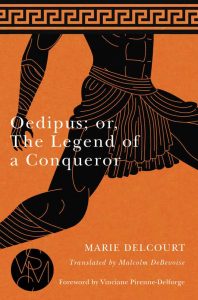 Marie Delcourt, Oedipus; or, The Legend of a Conqueror, translated by Malcolm DeBevoise. Foreword by Vinciane Pirenne-Delforge. Michigan State University Press, 2020. Pages 323 + xiv. 
I remember when I attended Michel Foucault's lectures at the State University of New York at Buffalo in 1972 on Sophocles' Oedipus Tyrannos that the name of Marie Delcourt came up often as a requisite authority on matters of ancient Greek myth, ritual, and historiography in the French-speaking world. And when, in preparation for writing this review, I read Vinciane Pirenne-Delforge's moving prefatory tribute to the "altogether extraordinary woman" (viii) who taught for three decades at the University of Liège (and passed away shortly before Pirenne-Delforge arrived there), I understood why. An early victim of poliomyelitis, Delcourt struggled as well with the "obstacles to higher education" (ix) that many young girls faced in Belgium and Europe at large. And when she assumed a position in 1929 as the "first female lecturer" (ix) at the University of Liège, she found herself, according to Pirenne-Delforge, continually battling stodgier senior colleagues in a department of classical philology where she taught the "history of humanism" and "Greek antiquity and literature." By 1940, she had finally gained a "full professorship," and Marcel Detienne "fondly" remembers, Pirenne-Delforge says, what "everyone called 'Marie's courses.'" She wrote some eighteen scholarly works on biography, translation, the history of humanism, and myth and religious studies of ancient Greece. She had also been, apparently, an Allied partisan during the First World War, and a feminist activist before her time. And she concluded her writing career with a cook book: A Method of Cooking for the Use of Intelligent Persons (1947). "A woman who must look after her children all by herself," she writes in the introduction, "and see to all the household chores by herself, will not have the time every day of the week to cook elaborate dishes" (x-xi). 
Given her interest, in both the scholarly world and the everyday world of "household chores," in the rituals of sovereignty and power, it is easy to see why Foucault and Detienne liked her. But it is also easy to see why these prefatory biographical details are worth recalling as a way of understanding both the book that follows that account and its importance for a Girardian audience. William Johnsen's canny decision to include this publication volume in his prestigious Violence, Mimesis, and Culture Series (in Malcolm DeBevoise's very readable translation which clarifies and updates the 1944 edition that Delcourt was unable to update) contributes bountifully to the interest many of us have tried to develop over the years in the wake of René Girard's thought surrounding the sacrificial and anti-sacrificial dimensions of Greek tragedy generally and Sophocles' most famous play in particular. In what follows, I will try to highlight some of what I take to be the contribution Delcourt's book makes to that ongoing Girardian project. 
---
Minor Indignities
Grant Kaplan
Saint Louis University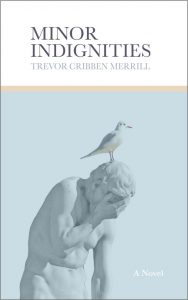 Trevor Cribben Merrill, Minor Indignities. Wiseblood Books, 2020. Pages 233.
Trevor Cribben Merrill made his entrance into the world of Girard studies with The Book of Imitation and Desire: Reading Milan Kundera with René Girard (Bloomsbury, 2013). This piece of scholarship arose out of his dissertation that he wrote in the French Department at UCLA. Seven years later, the critic and theorist has taken his turn at the genre that Girard himself finds the most revelatory, the novel. 
Merrill has provided us with a witty, enjoyable "campus" novel that recounts the exploits of an unlikeable hero, Colin, who navigates his first year at an anonymous Ivy-League school. The scope limits itself to a small group of friends, not unlike Proust's small dinner-party circuit. This device makes it easier to illuminate the universal themes of desire, imitation, and rivalry. The spiritual and religious themes in the book run like a quiet score in the background of a story about the ups and downs of the first year away from home. Merrill writes the story from the first-person perspective of Colin, whom we meet as he prepares to depart his small-town in Maine, whose smallness is symbolized by the girlfriend he cannot wait to be rid of as he anticipates fashioning a new, more sophisticated self. 
Merrill presents an extremely normal Colin: his parents are still married, he has a doting girlfriend, and seems to suffer no immediate existential crisis. He is contrasted by his new roommate, Rex, whose desires Colin will come to imitate. These desires range from the romantic, to the sartorial, and even into the literary realm. When Rex declares, "Proust is for old ladies," Colin parrots him to rebuff a recommendation that he take up Swann's Way. Only against this backdrop of Colin's normalcy does the funhouse that is this anonymous Ivy League school come into view, especially after the reader watches Colin become undone in his attempt to have a casual sexual relationship with the beautiful Margot. This ends in humiliation for Colin, whom Margot maces one night; a few weeks later, Colin finds himself in the Dean's office, responding to accusations of stalking. The closed Ivy walls prove no match for Colin's apparent normalcy, as he approximates the campus outcast.
---
Theodicy and Spirituality in John's Gospel
Andrew Marr
St. Gregory's Monastery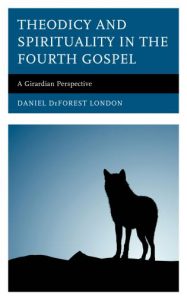 Daniel DeForest London. Theodicy and Spirituality in the Fourth Gospel: A Girardian Perspective. Lexington Books/Fortress Academic. 2020. Pages: 131.
It says much for the richness and ambiguity of John's Gospel that it seems that the world cannot hold all the books that have been and will be written about it, and these books continue to add to the conversation with much insight. This new book by Daniel DeForest London has much to add to the riches. The main conversation partner with John's Gospel, René Girard, has inspired many people with his insights into mimetic desire (the human tendency to share desires) and scapegoating violence. Girard's twin theories have helped us re-evaluate many classics and is particularly valuable in guiding us into a new and deeper understanding of the Bible. London has furthered this project with his application of Girard's thought to the Fourth Gospel.
St. Julian of Norwich, a mystic who struggled with theodicy (and who is mentioned in this book) saw the whole world in a hazelnut. London brings this broad, cosmic topic down to chapters 9 and 10 in John's Gospel and narrows his study even further by concentrating on a few key verses with meticulous attention. As a small part of a hologram includes the whole, London shows that a small part of the Fourth Gospel also includes the whole.
---
The Goodness Paradox
Christopher Haw
University of Scranton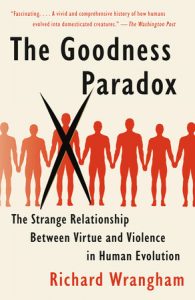 Richard Wrangham, The Goodness Paradox: The Strange Relationship Between Virtue and Violence in Human Evolution. Pantheon, 2019. Pages 400.
Richard Wrangham's Goodness Paradox is juicy enticement for mimetic theorists interested in the questions of human evolution and violence. It theorizes a framework of how group killing played a selective function in the emergence of our species, but it leaves open plenty of questions and concerns for productive, critical dialogue. Wolfgang Palaver has written a short hat-tip toward the book, and Melvin Konner reviewed it for The Atlantic. But I'd like to offer a medium depth engagement as one who has taken keen interest in the evolutionary and theological dimension of mimetic theory. I'll begin by extrapolating Wrangham's argument and then turn to the criticism.
Wrangham's overall paradox is that humanity emerged through killing our way out of violence. More precisely, proactive coalitionary killing against aggressive, alpha-male individuals selected out—in a genetic pressure over hundreds of thousands of years—the more temperamental threads of Homo, resulting in a species (sapiens) who are relatively more domesticated and docile.
The argument goes like this. First: domestication is a real, genetic thing. Various domesticated species tend to share an odd, seemingly-unrelated set of features called a "domestication syndrome." This refers to some combination of phenotype changes compared to non-domesticated cousins: reduced skeleton mass, reduced/rounder cranium sizes and reduced jaw lines, floppier ears, white patches of fur, extended juvenility, more frequent fertile periods, males with greater approximation to female characteristics, and so on. Beneath all these is a genetic reduction in "reactive aggression," the propensity for violence related to irascibility and short-fused explosions.
---
Mimesis and the Social Suite
Curtis Gruenler
Hope College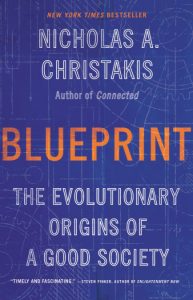 Nicholas A. Christakis, Blueprint: The Evolutionary Origins of a Good Society. New York: Little, Brown, 2019. Pages 520.
Nicholas Christakis is the Sterling Professor of Social and Natural Science at Yale University, with joint appointments in Sociology, Medicine, Ecology and Evolutionary Biology, Statistics and Data Science, and Biomedical Engineering. He also directs Human Nature Lab within the Yale Institute for Network Science, where he leads a large, interdisciplinary team whose ambitious studies he incorporates among a remarkable array of research here. Before Blueprint, he co-authored Connected, on social networks, and he recently published the well-reviewed Apollo's Arrow: The Profound and Enduring Impact of Coronavirus on the Way We Live, which draws on his expertise in understanding both biological and social contagions. He writes with clarity, narrative flair, and a sense of wonder, which makes it all the easier to cut him some slack for not including mimetic theory in this account of what he calls the human "social suite." Though there would be some differences to work out, these two approaches to understanding humanity through our relational nature could be powerful allies.
Even if he were familiar with mimetic theory, I suspect Christakis would say it is not directly pertinent to his case, which seeks primarily to establish the universality of the "social suite" empirically rather than give a theoretical or developmental explanation of it. On this fundamental point, however, Blueprint stands with mimetic theory in affirming, against orthodox anthropology, the existence of universal features across human cultures. Christakis cites other recent work in this direction but claims his "list of universals" is "more focused and fundamental" (12).
---
Bulletin 66 – December 2020