Contents
Letter from the President, Martha Reineke
Musings from the Executive Secretary, Niki Wandinger
Editor's Column, Curtis Gruenler
Pandemic and Apocalypse, James Alison
Writing an Afterword on Pandemics, Berry Vorstenbosch
Report on the 2020 COV&R Board Meeting, Martha Reineke and Nikolaus Wandinger
COV&R Sessions at the American Academy of Religion
Collaborators Conference, Susan Wright
Collaborators Conference, Suzanne Ross
Mark R. Anspach, ed., The Oedipus Casebook: Reading Sophocles' Oedipus the King, reviewed by William E. Cain
Paul Gifford, Towards Reconciliation: Understanding Violence and the Sacred after René Girard, reviewed by William A. Johnsen
Jean-Pierre Dupuy, A Short Treatise on the Metaphysics of Tsunamis, reviewed by Daniel DeForest London
Chris Fleming, On Drugs, reviewed by Kathy Frost
---
Letter from the President

Forward Together
Martha Reineke
University of Northern Iowa

As I write, a number of universities across the US that opened for fall classes last week already have closed. Yet, even as the Dean of Students has informed me that two of my students are sick with COVID-19, face-to-face classes have begun at my university, which has picked as its motto for the fall semester "Forward Together." To help pass the time during the first faculty meeting, a colleague shared with me a bingo card with amusing entries that captures the moment well.  The center square contains a single word: "unprecedented." Years from now, anyone reading this issue of the Bulletin will need only give it the briefest of glances to know it was written in the fall of 2020. Truly, we live in unprecedented times. 
Although some entities and individuals are responding to our unparalleled circumstances by hitting the pause button, "Forward Together" very well captures the tone of July's COV&R board meeting. We did postpone our annual meeting due to the coronavirus; nevertheless, in other respects, the Board is energized to make COV&R an even stronger organization in the year ahead. Augmenting our traditional channels, we want to position COV&R on digital platforms to offer mimetic theory as a vital resource for reflecting on world events and the social and cultural issues arising from them. The pandemic has made crystal clear that a digital environment in which mimetic theory can thrive is fast evolving and is highly unlikely to disappear after the pandemic ends. Board members shared confirming examples from our own lives: we teach and regularly host or attend meetings online; we have blogs; we record videos, put them on our YouTube channels, and share them; we contribute to and/or receive digital newsletters; we contribute to or host podcasts; we read daily digitalized articles from a number of popular and academic journals to which we subscribe. A number of us who are not digital natives have seen digitalization take hold in our daily lives only in recent years. Nevertheless, all of us agreed that the transformations we are experiencing are not transitory. Spurred on by the coronavirus, they are here to stay.  
Yet, despite the breadth and variety of experiences we shared with each other during the Board meeting, we realized that, if any of us were to develop a communications strategy for COV&R, our personal experiences would not serve as reliable guides. Expertise is required in order to identify target audiences, create appropriate messaging, and best utilize communications platforms. A professional consultant will enable COV&R to explore options broadly and creatively, but also with knowledge and skills that will provide for a comprehensive strategy that has all the components we need to achieve our communication goals. 
The Board meeting report offers details of an initiative to which the Board committed at our July meeting to hire a professional consultant to guide COV&R as an organization committed to sharing mimetic theory with a wide and varied audience. With a consultant's help, we will position our membership to successfully meet communication challenges and opportunities of our time. 
I am especially excited by the potential in this initiative to attract new members to COV&R. A number of small scholarly organizations similar to ours are struggling with declining membership. Members who retire from the profession are not being replaced by a younger cohort. In some cases, the downsizing of higher education—colleges and seminaries are closing in the US and contingent (non-tenure/tenure track) faculty now hold 70% of US university teaching positions—accounts for the loss of members. But a factor also seems to be that these organizations have no digital presence, not even websites. By positioning COV&R for a robust digital presence, not only will we be meeting young Girardians or potential Girardians where they hang out but also, and even more important, COV&R will be more inclusive of practitioners of mimetic theory whose areas of formal employment increasingly are located outside the academy. As a consequence of this initiative, mimetic theory will be more able to contribute to enhanced understandings of social and cultural issues with which individuals, communities, and nations are grappling. Mimetic theory is up to this challenge and, thanks to the Board's forward-looking vision, so also is COV&R. The Board looks forward to sharing updates on this initiative with the membership at our 2021 meeting at Purdue University. 
---
Musings from the Executive Secretary
Positive Models
Niki Wandinger
University of Innsbruck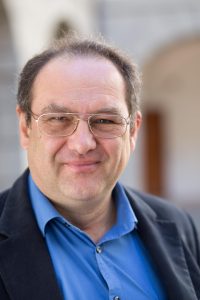 When one of last year's winners of the Raymund Schwager Memorial Award asked whether there was a certificate in addition to the prize money, we realized that there wasn't. But we thought there should be. Then the everyday hassles of our academic lives and later the Covid-19 crisis postponed all efforts to design such a certificate. At our online Board Meeting in July, however, we agreed that Maura Junius would design such a certificate. She suggested that a picture of Raymund Schwager, after whom the award is named, could be an element of the certificate. I thought a picture showing Schwager and René Girard together would be nice. When I later talked to my Innsbruck colleagues Wolfgang Palaver and Willy Guggenberger, telling them that I was searching for such a photo, Wolfgang came up with another idea: Why not have a drawing instead of a photo? And he knew where to get it, too. Willy Guggenberger had shown his talent for pencil drawings on many earlier occasions, and he agreed to devote some of his vacation time to create such a drawing. I received it a couple of days ago, and Martha Reineke, Maura, Wolfgang, and I were all quite happy with it.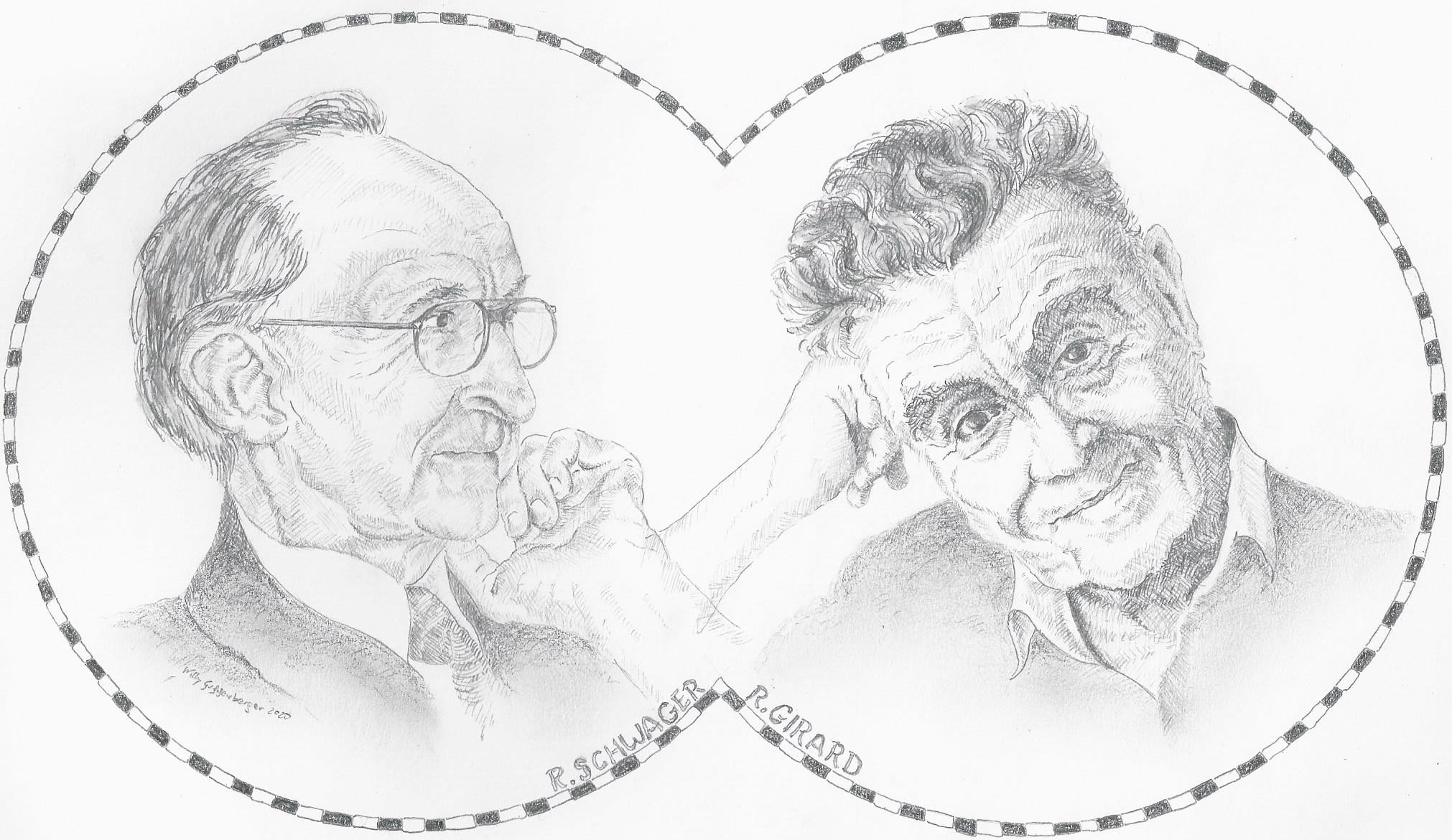 The overall design of the certificate has not yet been completed, but Willy's sketch will certainly be an element of the certificate, and the 2019 award winners will be the first to receive it, once the design has been completed. Clearly, Willy has taken two well-known photographs of the two thinkers as models, but he arranged them in his own way, and I think this arrangement does convey a special message about Raymund Schwager's and René Girard's relationship. 
Raymund is looking at René, while René is looking at the viewers, at us. So, there is a triangulation, but I am not so sure whether the roles of subject, object, and model are clearly distributed. One could argue Schwager is the mediator here because he looks at Girard and directs our gaze – and our desire – also towards him. Yet, Girard looks at us. So, are we his desired objects, whose interest and attention he craves? And in a way, our gaze then wanders back to Schwager, as if to ask: Why is he so interested in the other guy? So, here what seemed to be the model becomes the object of our curiosity, and thereby of our desire. However, one thing is certain: The two are not in a mimetic rivalry. Neither do they stare off against each other, nor do they compete for our attention. In fact, it even seems to me that while Schwager does look at Girard, and Girard does look at us, both also look beyond this immediate focus of their gaze.
And this reminded me of one of the more remarkable passages quite early in their correspondence. In the summer of 1976, Schwager concluded a letter to Girard: "Permit me to finish with a very personal remark: I thank God in my prayers that he has given you this wisdom. At the same time this prayer is 'the means' for me to avoid falling into an absurd [literally: ridiculous] rivalry by taking you as model (master of thought)." (René Girard and Raymund Schwager. Correspondence 1974-1991. Translated by Chris Fleming and Sheelah Treflé Hidden. Edited by Scott Cowdell, Chris Fleming, Joel Hodge, and Mathias Moosbrugger. Violence, Desire, and the Sacred 4. New York: Bloomsbury, 2016, p. 33.)
After Schwager passed away, René Girard remarked that Schwager had been the only person who had really made him doubt his theory. Gasps of astonishment in the room! Then the explanation: because he (Schwager) was completely free of rivalrous envy. Schwager's remark in his letter proves that this did not come just naturally to him. It grew out of his faith life and his trust in the power of prayer. René Girard also trusted in that power and he also avoided rivalry with Schwager. While faith and prayer are not everyone's means, Willy Guggenberger's sketch translates what it meant for the friendship of Raymund and René: It meant looking beyond the immediate focus of attention while not losing that focus. 
Of course, these are my musings on the drawing, and you might have different ones or none at all. What I want to say for me: If we use Willy's sketch to adorn the Raymund Schwager Memorial Award, I think we also state that we as a group are willing to live up to that heritage of looking beyond the immediate concerns, of avoiding rivalry by acknowledging the wisdom of the other person. I hope that we succeed.
---
  Editor's Column
Bob Dylan, Hypermimetic
Curtis Gruenler
Hope College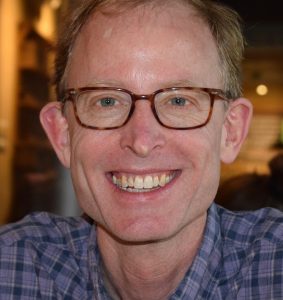 I'm especially grateful to James Alison and Berry Vorstenbosch for their reflections on the Covid-19 pandemic in this issue. As they both suggest, we are far from finished understanding this collective experience that is at once so familiarly mimetic and also, as Martie Reineke writes in her presidential letter, unprecedented. We welcome further reflections for the November issue (deadline: October 30) and beyond.
Another voice I have appreciate during the pandemic has been Bob Dylan's, especially on his brilliant new album, Rough and Rowdy Ways. At 79, the great poet of our time is still giving. His songs have always been full of what James Alison calls the intelligence of the victim, nurtured by the folk and blues traditions in which he steeped himself, but flowing ultimately from the Bible. "Rainy Day Women #12 & 35" from 1966 was never really about drugs: "Well, they'll stone ya when… Everybody must get stoned." The new album pulls the many phases of his career together like never before in what might, alas, be a final artistic statement. As he sings in "Mother of Muses," a song about the Holy Spirit under various guises, "I've already outlived my life by far." His voice has changed, even from his previous album of original songs, 2012's Tempest (also a remarkably spiritual album). He sounds both mellower and more penetrating, deeper and more intimate, urgent but echoing with the depths of time.
I could go on and on, but the songs are to be heard more than analyzed. Still, here are some teasers for mimetic readings. "Murder Most Foul," the 17-minute track about the death of President Kennedy, suggests its sacrificial dimensions and how they are answered by art. "Black Rider" compassionately diagnoses rivalry, scandal, and the satanic. "Crossing the Rubicon" might be about, among other things, and as its title suggests, Christianity and power. The opening track, "I Contain Multitudes," recognizes the hypermimetic nature of great artists, like Walt Whitman, from whom the title quotes, but I don't think he means to say that poets are all that special. His art just helps us see how we all contain multitudes.
"False Prophet," my favorite track, addresses the mantle Dylan has wrestled with his entire career. It might be responding to a comment by Pope Benedict XVI, as discussed by Randy Coleman-Riese on the Cornerstone Forum blog. The song's refrain rings changes on what it means to bear witness: "I ain't no false prophet / I just know what I know / I go where only the lonely can go." He turns the reference to a song by Roy Orbison (an old pal from the Traveling Wilburys) into solidarity with all manner of solitary suffering. Second time: "I ain't no false prophet / I just said what I said / I'm just here to bring vengeance on somebody's head." This sounds like continuing a cycle of retribution, unless the vengeance is a matter of exposure, which some of the song's lines seem to do to those currently in power. The third and final repetition, and the song's last lines, have a Christological resonance that at once denies messianic pretensions and claims a place in the line of prophets, from Abel to Zechariah, who continue to speak from beyond the grave: "I ain't no false prophet – No, I'm nobody's bride / Can't remember when I was born and I forgot when I died." Another line, "I sing songs of love, I sing songs of betrayal"—the two options once victimage is seen, compassion for victims or exposure of wrong—could categorize hundreds of his other songs. My favorite couplet, no more reducible to a mimetic reading than any of the rest of the song, could be what Jesus was writing in the dust when he knelt with the woman caught in adultery in John 8. It's what I wish I could say, at least to myself, when I see an accusatory look in someone else's eyes: "What are you lookin' at – there's nothing to see / Just a cool breeze that's encircling me."
Publishing News
With this issue, we are also adding to the "Member Articles" section of the website another piece of cultural commentary through the lens of mimetic theory: Luke Nelson's sharp analysis of the film Captain America: Civil War. We welcome comments on this piece as well as further commentaries of this sort, that is, neither reviews nor exhaustive academic articles, but analytical essays drawing on mimetic theory.
I recently received the two latest books on the way to all COV&R members from Michigan State University Press: Desire: Flaubert, Proust, Fitzgerald, Miller, Lana del Rey by Per Bjørnar Grande from the series Breakthroughs in Mimetic Theory and Oedipus; or, The Legend of a Conqueror by Marie Delcourt from Studies in Violence, Mimesis, and Culture. The pandemic has often slowed down shipping but if your copies haven't arrived in a few week, please email Bill Johnsen.
The 2020 issue of Contagion: Journal of Violence, Mimesis, and Culture, volume 27, has been published. For access, go to COV&R's membership services site and follow the instructions. You can also access it on Project Muse or JSTOR if your library subscribes to those services.
Wolfgang Palaver's online annotated bibliography, "René Girard" has been published in the series Oxford Bibliographies in Literary and Critical Theory. It includes 120 references, both primary and secondary, categorized by topic and discipline across the whole field of mimetic theory and can be updated regularly. It requires that your institution subscribe to this bibliography series. I think it is now the best place to start for a bibliographic introduction to the field.
Xiphias Gladius, the journal of the Spanish mimetic theory group, has put out a call for papers for a special issue on "Positive Mimesis: Education and Mimetic Theory." The deadline for submissions is February 15, 2021. They are also planning a workshop on the same theme for November 19, 2020, at the University Francisco de Vitoria in Madrid.
Finally, we would like to ask for help in finding reviewers for some books that require special combinations of expertise: The Head Beneath the Altar: Hindu Mythology and the Critique of Sacrifice by Brian Collins and the first two volumes of Robert M. Doran's projected three-volume series The Trinity in History: A Theology of the Divine Mission, Volume One: Missions and Processions and Volume Two: Missions, Relations, and Persons. If you would be interested, or if you know someone who might be willing and qualified, please contact our book review editor, Matthew Packer.
---
A St. Dominic's Day Reflection on Pandemic and Apocalypse
James Alison
Madrid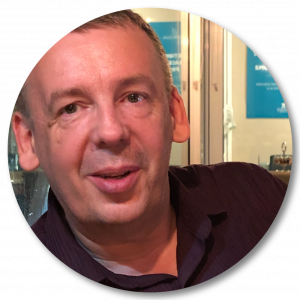 February 2020 found me writing up a paper detailing some Girardian reflections on the Book of Revelation, based on workshops I had conducted in France. So when, in mid-March, we all began to get a sense of what was coming upon us, apocalyptic criteria were fresh in my mind. I had become aware of the two senses of the Apocalyptic, what I call the binary and the ternary. The binary includes all the oppositional realities involving death, fear, and destruction, frequently leading to projections onto God. And the ternary is the slow, quiet bringing into being of the New Creation in the midst of the winding down of all that violent futility. This is what John's Apocalypse is all about: the bringing into being, by the lamb standing as one slain, of the New Creation, in the midst of the violent winding down of fake sacrality in the period leading up to the destruction of Jerusalem and its Temple in 70 AD.
Transferring this to COVID-19, I noticed how the social displacements following the arrival of the coronavirus, itself simply a thing that is, and maybe not even a thing that is alive, could be read in both binary and ternary modes of revelation. The first was obvious and came over us all with the closing down of activities, frontiers, public meeting places. The fear of death, and its heavy presence in Bergamo and Madrid. Then closer to wherever our home might be. The disarray among most Western governments, with leaders, especially in the UK, Brazil, and the US—three countries which are dear to me—being not only incompetent, but effectively sabotaging their own national efforts to provide resilience. Along with the blame displacement came the inevitable spin-off of conspiracy theories, leading to even more death. And finally, people flip-tricked into deadend madness concerning requests to wear face-masks, loudly proclaiming their loyalty to fake gods as they sputtered their way gravewards.
---
Writing an Afterword on Pandemics
Berry Vorstenbosch
Dutch Girard Society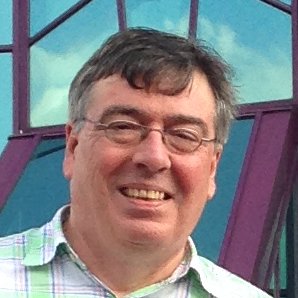 In January 2020 I finished the Dutch text of a book on psychosis and mimetic theory (the title will be De overtocht—Filosofische blik op een psychose which translates as The Crossing—A Philosophical View on Psychosis). In order to make the reader familiar with mimetic theory, I leaned heavily on the metaphor of the epidemic, focusing on Girard's treatment of Raskolnikov's dream in Dostoevsky's Crime and Punishment as discussed in Girard's Le Mensonge Romantique et la Vérité Romanesque (1961) and "The Plague in Literature and Myth" (1974). It is this essay, published in To Double Business Bound (1978), I took as the main text for explaining the relationship between Girard's psychological theorem on mimetic desire and his anthropological theorem on the scapegoat mechanism.
In this essay, Girard presents the contemporary age as a world in which epidemics are virtually absent: "Judging from the role of the plague in Western literature up to the present, this metaphor is endowed with an almost incredible vitality, in a world where the plague and epidemics in general have disappeared almost altogether" (138). In January I added a footnote, emphasizing that the essay was written as early as 1974, and that the world had not yet gone through the experience of AIDS, Ebola, or SARS, making Girard's observation here somewhat outdated. 
Then, at the end of March we were in the lockdown. I felt obliged to rewrite the paragraphs in the main text in which I introduce this essay, referring explicitly to the coronavirus. In the Dutch Girard Society, we discussed this essay in a zoom session on April 10th. In May I added an afterword focusing on the pandemic. At that moment I felt I was not at all able to say something definitive about Covid-19. At the moment I write this notice, which is the first week of August, I will be approaching the last moment in which I can update my text before the book will go into print. I still sense my observations about the pandemic might become obsolete just within a couple of weeks.
---
Report on the 2020 COV&R Board Meeting
Martha Reineke, President
Nikolaus Wandinger, Executive Secretary
The Board held a digital meeting on July 8, 2020. In lieu of a business meeting this year, due to the postponement of our annual meeting until 2021, we are summarizing key features of the meeting here. 
The Board voted to maintain the same board members given the inability of the membership to attend a business meeting at which a new slate of members could be approved. We truly appreciate the willingness of our current board members to extend their terms. 
The Board received the report from the Ad Hoc Communications Committee tasked last year with making a recommendation to the Board about how to create and execute a communications/marketing strategy for COV&R that will support key goals. In discussions last year which the Board shared with the membership, we established this committee in order to facilitate developing the global potential for a robust mimetic theory network under the umbrella of COV&R. Additional goals include: growing the COV&R membership, increasing attendance at the annual meeting, enlarging book sales and author visibility, and raising attendance at regional events (in physical locations and on various digital platforms). After summarizing the meetings they held during the year, the committee recommended the hiring of a marketing specialist to develop a communications strategy to meet these goals. 
---
Forthcoming Events

Times and information on how to attend to be announced.
Session I: Beyond Scapegoats: Marginalized Voices in Conversation with René Girard
Convener and Moderator: Grant Kaplan, Saint Louis University
Julia Robinson Moore (The University of North Carolina at Charlotte), "Mimetic Theory through the Voices of the Little Rock Nine: Black Scapegoats in the Desegregation of Central High School, 1957-1958."
Martha Reineke (University of Northern Iowa), "An Escalation to Extremes:  Purity Spirals and Victimization."
Chelsea J. King (Sacred Heart University), "Girard, the Feminist? Bringing Mimetic Theory into Dialogue with Feminist Critiques of Sacrifice"
Session II: Mimetic Theory and Christian Spirituality
Convener: Grant Kaplan, Saint Louis University 
Moderator: Brian Robinette, Boston College
Jared Price (Multnomah Biblical Seminary), "'All Shall Be Well': Julian of Norwich, Rene Girard, Jacques Lacan, and the 'Other Side' of Christian Mysticism"
Aline Lewis (Graduate Theological Union), "Mimetic Desire in Ignatius of Loyola's Autobiography"
Joseph Rivera (Dublin City University), "Eucharist as Contemplative Action: A Girardian Perspective"
Co-Sponsored Session with Nineteenth-Century Theology
Academic Rivalry in the Modern Age: Thinking with Girard and Beyond
Convener: Zachary Purvis
Grant Kaplan (Saint Louis University), "Brothers or Enemies? Revisiting Academic Rivalry in the Möhler/Baur Debate"
Bryan Wagoner (Davis and Elkins College), "Franz Overbeck and Carl Albert Bernouilli Through the Lens of Girardian Mimetic Rivalry"
Respondent: Johannes Zachhuber (University of Oxford)
---
Conference Reports

The Collaborators Conference
Finding Something Precious in the Interconnected Community
Dedicated to Mimetic Theory
Susan Wright
COV&R Board Member and former President of Theology & Peace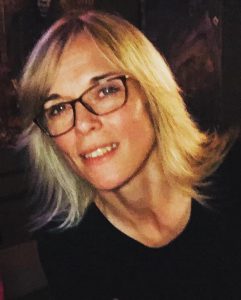 Twenty years ago I decided to attend my first COV&R conference, held that year at Boston College. Within minutes of arriving I bumped into Per Grande, who would become a future conference buddy and my dear friend. Following René Girard's address, as I made my way to the reception, I bumped into Bob Hamerton-Kelly. He introduced me to René, who was very gracious. Over the course of the evening I enjoyed long conversations with Bob and others. I left in the wee hours, my head bursting with ideas and enthusiasm. It was the first of many conferences and late night conversations exploring the implications of mimetic theory.
Two years earlier, I had registered for a course in New Testament at Syracuse University. It was there that I met Tony Bartlett and Jim Williams, my first teachers in Mimetic Theory. That simple decision would have a profound impact on my life. How easily it could have been otherwise!
That summer of 2000, having completed my first year at Colgate Rochester Crozier Divinity School, I had just written my first academic papers utilizing mimetic theory, one on the biblical prophets, another for a class in feminist theology. Returning to school inspired by my experience in Boston, I applied René's texts to a wide range of paper topics from homosexuality and the Anglican Communion, to the sacrifice of Isaac, to Catherine Malabou's theory of plasticity. For seven years I kept a blog, "No Outcasts." Every post, whether exploring biblical texts, zombie movies, comics, or popular music, was an exciting exercise in discovering new insights born of mimetic theory. Twenty years of engagement with René's ideas have confirmed his assertion that the theory asserts itself through the wide range of its application. I suspect many of you can attest to a similar experience.
---
When the Need is Urgent, Take it Slow:
Reflections on the Collaborators Conference
Suzanne Ross
Co-Founder of The Raven Foundation and COV&R Board Member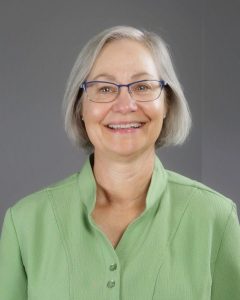 Many attendees at the Collaborators Conference for the Flourishing of Nonviolent Christianity in August were drawn to our community as a safe place to recover from the damaging effects of having been raised with a judgmental, punishing God. Presenters Kevin Miller, David Dark, and Audrey Assad spoke of their own journeys toward a more loving God and a more inclusive, merciful faith.
All our presenters encouraged us to imagine the impact Christian life and practice could have on the world if we strove to embody a God of mercy and love for people inside and outside church walls. Many of us are eager for that kind of change in our churches, and during a Q&A someone asked how we might leverage our impact by connecting with other communities and conferences doing similar work. Kevin Miller gave a provocative answer – bigger isn't necessarily better, he said. Small can have an outsized impact; we can be the leaven in the dough if we have the patience to let the yeast do its thing.
Going Slow for Change
The theme of small and slow rippled through the talks. James Alison emphasized that the key element required to extend mercy to others is to recognize ourselves as also in need of forgiveness. This, he told us, is difficult and slow work because we may have to face our anger, resentments and deepest anxieties.
---
Book Reviews
For inquiries about writing a book review or submitting a book for review,
contact the book review editor, Matthew Packer.
---
Sophocles, Tragedy, Plague
William E. Cain
Wellesley College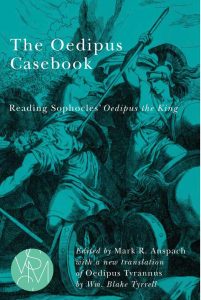 Mark R. Anspach, ed. The Oedipus Casebook: Reading Sophocles' Oedipus the King, with a new translation of Oedipus Tyrannus, by Wm. Blake Tyrrell. Studies in Violence, Mimesis, and Culture Series. East Lansing: Michigan State University Press. 2020. Pages xiv + 459.
Expertly edited by Mark R. Anspach, The Oedipus Casebook: Reading Sophocles' Oedipus the King is an important contribution to the study of one of the greatest tragic dramas in the Western canon. It is an excellent resource for scholars, teachers, and students, and it will become an essential point of reference for examining the primary text, Sophocles, Greek tragedy, myth, ritual, and sacrifice.
The first part of the Casebook is the play itself, the Greek original on the left-hand page and a new translation by Wm. Blake Tyrrell on the right. The translation is briskly paced and riveting, and is supplemented by cogent annotations. Next are three sections of reprinted essays and excerpts from books, keyed to The Ritual Background, King and Victim, and Oedipus on Trial. The authors include, among others, Walter Burkert, René Girard, Terry Eagleton, Jan-Pierre Vernant, Michel Foucault, and Sandor Goodhart.
---
Towards Reconciliation
William A. Johnsen
Michigan State University
Paul Gifford, Towards Reconciliation: Understanding Violence and the Sacred after René Girard. Cambridge, UK: James Clarke & Company, 2020. Pages xiv + 148.
As an editor I appreciate and approve of Paul Gifford's prose. When his train leaves the station the cars are full. I like that. This book based on a public lecture series is something I didn't know he was good at, a hybrid now after revision, yet still a very attractive bringing back to the page of what was clearly and eloquently spoken. You can still hear him speaking. (James Clarke & Company should record him or podcast him.)
Yet there are also wonderful examples of "Gifford I" throughout: "Christianity is not—save at first sight, according to a misleading generic taxonomy and/or by convention—'a religion' (i.e. one among others). Nor is it 'the religion' (i.e. the only one—since 'religion' comes in thousands of varieties). Nor is it, either, 'no kind of religion' (a 'faith' but not a religion, for instance). It is, or it is nothing, the religion and faith, conjoined and interdependent, of the Gospel" (60; Bob Hamerton-Kelly would have loved that).  
This is not a book aimed directly at scholars in the sense of being written to persuade scholars first, trickling down to the ordinary (ordinatus) reader. Gifford's immediate audience is the community of Coventry Cathedral. He lightly chaffs his local audience when he says that England missed the boat on Girard. This slightly disparaging manner is the way the English talk to each other, an attractive modesty, but not to be taken literally (especially if you are not English). This is all good English fun onsite, but reading it in a book, this English professor from the colonies must stress what Gifford acknowledges elsewhere but does not say here (endnote 1), that Pierpaolo Antonello and Harald Wydra at Cambridge have been writing about and teaching mimetic theory for years; Michael Kirwan for an equally long period while at Heythrop, publishing two important books on Girard, conducting day-to-day teaching and advising of English and international students, offering conferences at Heythrop towards the reconciliation of separate religious communities through mimetic theory, commemorated in several volumes of collected essays, and sponsoring a well-attended COV&R conference at St. Mary's University College at Strawberry Hill co-hosted by Heythrop in 2009. In the north of Ireland the influence of Roel Kaptein and Duncan Morrow has been immense.  I will just mention the emerging and important work of Antonio Cerella and Elisabetta Brighi and then stop well short of a proper roll call, saving this (note to self) for someone's future Contagion bibliographical essay on Girard in the UK.
---
Tsunami
Daniel DeForest London
Church Divinity School of the Pacific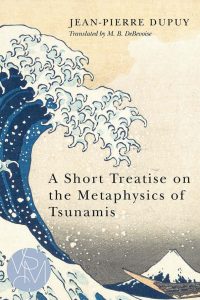 Jean-Pierre Dupuy, A Short Treatise on the Metaphysics of Tsunamis. Translated by Malcolm B. DeBevoise. Studies in Violence, Mimesis, and Culture. East Lansing: Michigan State University Press, 2015. Pages 78.
In A Short Treatise on the Metaphysics of Tsunamis, French philosopher Jean-Pierre Dupuy urges his readers to undergo the "daunting spiritual challenge" of confronting the inevitable disaster that awaits humanity while also resisting the temptation to panic (61). He calls humanity to take responsibility for the catastrophic evils of the past, present, and future; and to abandon the idea that God is the one to be blamed for human suffering. Dupuy does not offer any direct action or political agenda to avoid the disastrous future and he remains decidedly wary of any human attempts to do so, especially through means of science and technology. His purpose is to turn our gaze towards the abyss into which we are all running headlong, like sprinters in a tournament. His strategy for accomplishing this task is what he calls "enlightened doomsaying," which involves behaving as if the future catastrophe has already occurred and grieving not only for ourselves and future generations but also for all humans throughout history whose meaning will become obsolete in the wake of our extinction. 
For Dupuy, taking responsibility for cataclysm requires reexamining and relinquishing many of the images, language, and ideas we often use to comprehend the horror of moral and natural evils. In his historical survey of theodicy (in Chapter 2), he underscores the ubiquity of the tsunami as a metaphor for catastrophe. He follows the thread of Western theodicy from the free will argument of St. Augustine to the theodical trilemma of Calvinist Pierre Bayle to the metaphysical optimism of Leibniz, which stirred the minds of Voltaire and Rousseau as they contemplated the tragedy of the 1755 Lisbon earthquake, fires, and tsunami. Although they both rejected Leibniz's claim that this world is the "best of all possible worlds," Rousseau agreed that the people of Lisbon were still at fault for the disaster, not because their sinful lifestyle provoked divine punishment, but because they built thousands of multi-story houses upon a precarious location. Rousseau removed the burden of evil from God's shoulders and placed it squarely on the shoulders of humanity, thus transforming theodicy into anthropodicy. Voltaire, on the other hand, mocked Leibniz's optimism in his Candide and poetically acknowledged human finitude in the face of inexplicable suffering. Dupuy finds Voltaire's lesson from Lisbon remarkably similar to David Brooks's remarks about the 2004 tsunami in Sumatra. After demonstrating how little our understanding of suffering has changed over the last 250 years, Dupuy summarizes the conclusion of Voltaire and Brooks by saying that "only those who dare to look into the abyss of meaninglessness are capable of true compassion" (29). 
---
On Drugs
Kathy Frost
Austin Community College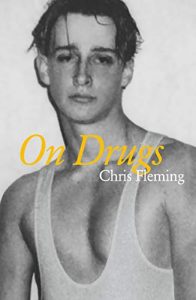 Chris Fleming, On Drugs. Sydney, Australia: Giramondo Publishing, 2019. Pages 222.
Chris Fleming established himself as a versatile thinker of mimetic theory in 2004 with his brilliant introduction to Girard's work for the Key Contemporary Thinkers series. COV&R members interested in reading more from Fleming should not expect in On Drugs an explicit journey into the depths of the theory or its application. Instead, what the reader gets with this memoir of his addiction struggles is an intimate, firsthand look at some of the ways in which mimetic theory can color one's personal life. Many of us have made passing mention in various venues of the dramatic effects of Girard's work on our own lives. Recall Haven's commentary in Evolution of Desire (2018) where she quotes Jean-Pierre Dupuy's striking admission that reading Deceit, Desire, and the Novel "was initially more emotional than intellectual" and "had the effect of a ten-year psychoanalytic cure" (201). Rarely, however, do we get a full, stripped down, brutally honest inside look into anyone else's life, much less a fellow follower of mimetic theory.
As you would expect from a memoir about drug addiction, Fleming begins by chronicling his experiences with different kinds of drugs and the logistical gymnastics required to access, secure, and hide them—and the whole process—from others. Ultimately, his preference was less for the brief intense sensations of an illicit drug like cocaine, and more for those offering extended highs that could accompany reading, thinking, and writing. Marijuana served this purpose for a number of years, but ultimately, his drug of choice was Nurofen Plus, a painkiller combining codeine and ibuprofen that could be purchased at various pharmacies and superstores in multi-pill packs. 
Fleming averaged about 48 pills a day, although there were times when his daily regimen was double that amount. But more striking than the tally of his drug intake or the variety of different types he consumed was the telling, in exquisite honesty, about the dishonesty that goes into a drug habit one must keep hidden from others. Fleming tracked his pharmacy visits, careful not to draw suspicions of his addiction. He was always armed with pat answers in case he was asked why he needed the drug. He invented stories to address the need for such excessive quantities (in preparation for going overseas?). 
---
Bulletin 65 – August 2020